Sister Joy Cincerelli '59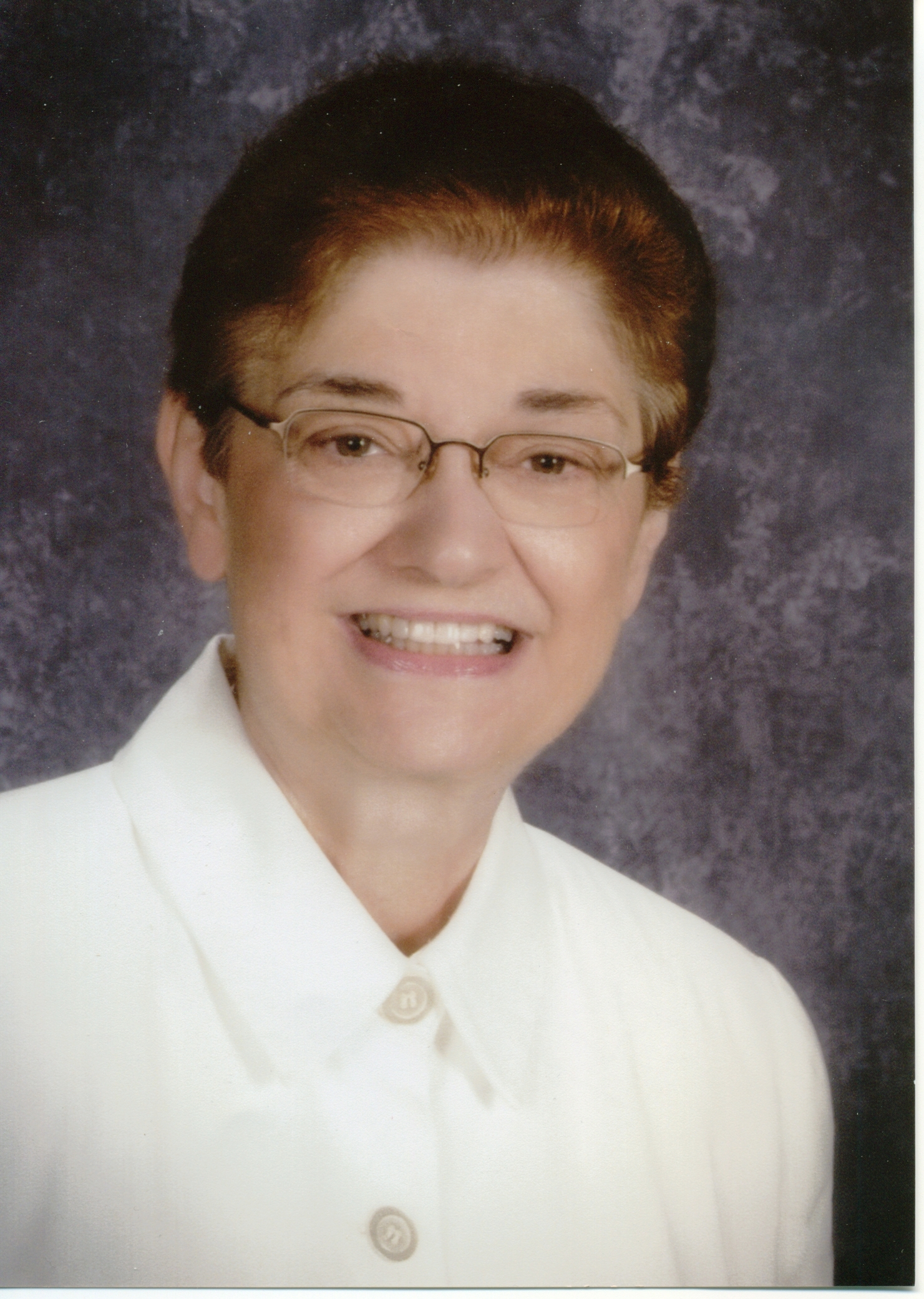 Sister Joy Cincerelli is the daughter of Albert and Hilda Peterangelo Cincerelli. Her sister, Alberta Cincerelli, is a 1966 graduate of St. John and currently lives in Rhinelander, Wisconsin. Sister Carol Joy's uncle, Roland "Smokey" Cincerelli, is a former coach and staff member of St. John and is also a member of the Herald Hall of Fame.
While in high school, Carol Joy was captain of the cheerleaders, member of the National Honor Society, and President of the Future Teachers Club, Library Club and the Mission Society. She was the 1959 True Herald recipient.
Upon graduation from St. John, Carol Joy entered the Humility of Mary Sisters and has been a member of the religious congregation for 53 years. Sister earned her BSE from St. John College and her Art degree from Siena Heights College. Subsequently, Sister Carol Joy earned a Master's Degree from Lake Erie College.
Sister Carol Joy spent 31 years as an elementary school teacher. She also served as a consultant for the Diocese of Cleveland for 15 years. In 2006 she was named Outstanding Teacher of the Year by the Diocese of Cleveland. In addition to her time in the elementary classroom, Sister Carol Joy has served on the faculty of St. John College, University of Akron, Ursuline College and Notre Dame College. She has given numerous presentations for school staffs and has written 18 books for teachers.
Currently, Sister Carol Joy is Director of Enrichment for St. Hilary School in Fairlawn. Her creativity and use of the arts in education has made her sought after as a conference presenter. In 1996 the city of Akron recognized Sister Carol Joy as the Creative Woman of the Year.
Sister Lucy Copeck '59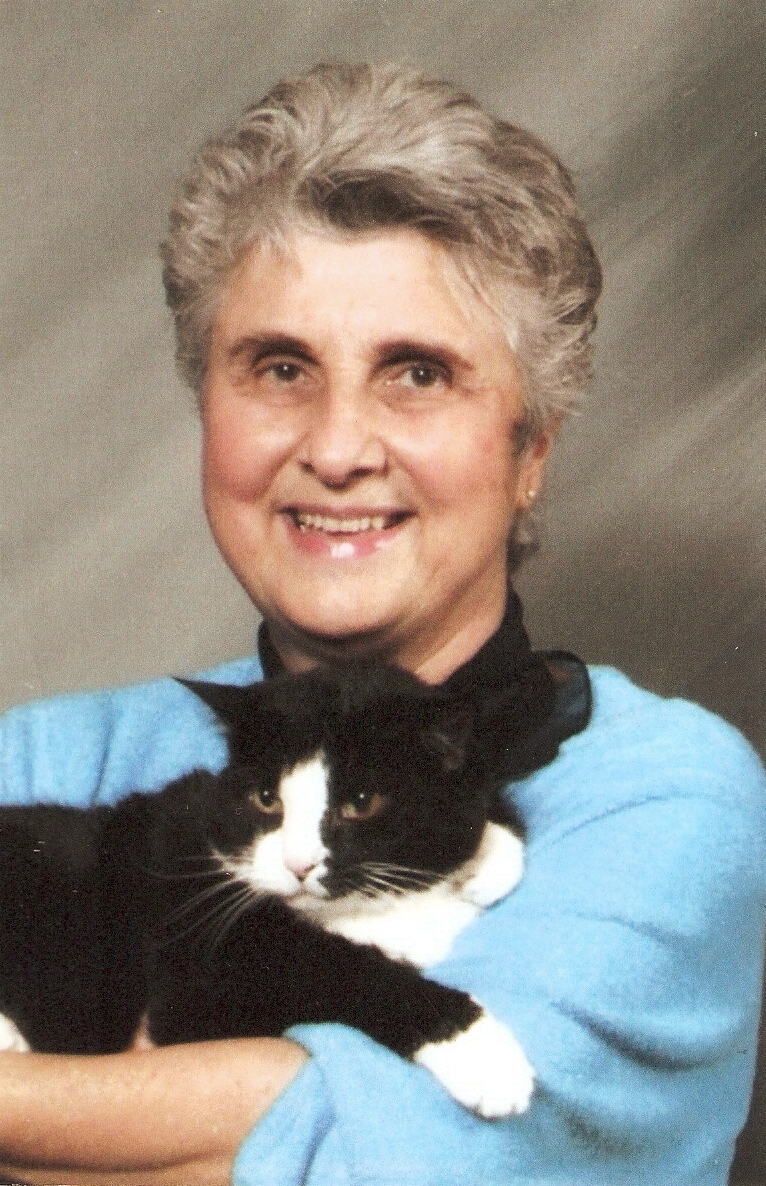 Sister Lucy Copeck is the daughter of Steve and Ludwina (Marsowicz) Copeck of Conneaut, Ohio. Sister Lucy is one of nine children. Her brothers, Charles, Frank, Leonard and Raymond, and her sisters, Mary, Helen and Theodozia, are deceased. Her brother John and his wife, Virginia, live in Conneaut.
In high school, Lucy was active in the Glee Club and the Library Club. She credits Physical Education teacher Joann David Styles, (also a member of the Herald Hall of Fame) with instilling her with good sportsmanship which was recognized when she received the "Good Sportsmanship Award".
Upon graduation from St. John, Lucy entered the Sisters of Humility of Mary and has been a member of the religious congregation for 53 years. Sister earned her BSE from St. John College and undertook post graduate studies at Edinboro State College.
Sister has taught in various Catholic schools in Warren, Salem, Hubbard, Akron, Cuyahoga Falls, Ohio and also in New Jersey. Sister interrupted her teaching career for three years to care for her elderly mother. Returning to the classroom, Sister's entire teaching career spanned more than 40 years. Sister is now enjoying her first year of retirement.
Retirement has allowed more time to visit with her brother in Conneaut as well as her many nieces, nephews, grandnieces and grandnephews. She also spends time with the elderly Sisters at Villa Maria, PA, taking her cat, Joey, to visit them.
Sister Lucy's humility is evident in that she considers her career rather ordinary. "I was just a woman who loved kids and loved to teach them, especially reading." That ordinary career touched the lives of many young people and her ability to inspire young children to love reading has made a difference in the lives of many.
Tony Esposito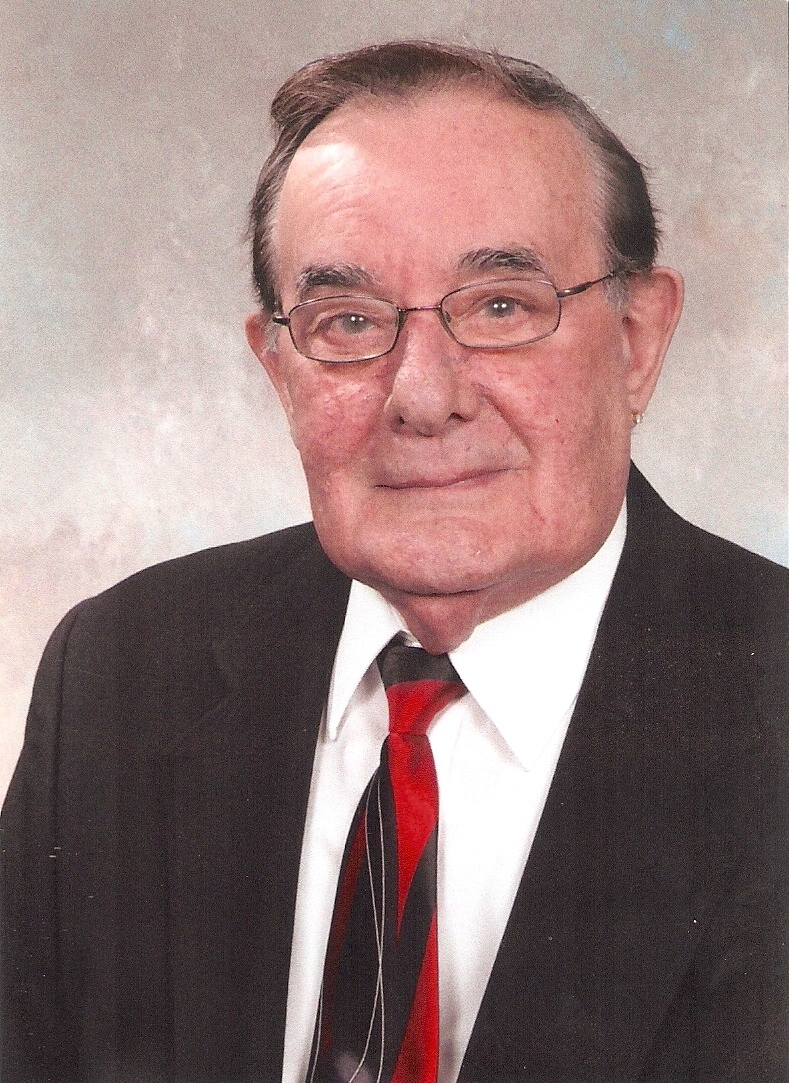 Tony Esposito grew up in Ashtabula and is a 1948 graduate of Ashtabula High School. While in high school, Tony played in the Marching Band, was a member of the Orchestra, Concert Band and sang bass in the school choir.
Three years after graduation, Tony was drafted into the army and became a trumpet player for the 5th Division Army Band. Tony was chosen to the United States Navy School of Music and was the first member of the army to graduate from the school.
After the service, Tony went to New York City and joined the Johnny Long Orchestra and toured across the country in ballrooms and colleges. After three years with the Orchestra, Tony joined the Ralph Marterie Band, one of American's top recording bands in the 1950's. In 1956, Tony returned to Ashtabula to form his own band, The Tony Esposito Orchestra. Tony and the orchestra have been entertaining throughout the county for 45 years. Tony was also a member of the Ashtabula Symphonic Band and a member of the Blues Project Band. Many of the groups Tony has performed with have given local concerts at Kent State and the Walnut Beach Summer Concert Series.
In addition to his playing career, Tony's love of music led him to the teaching profession. In 1992 he became the trumpet instructor for the Geneva Marching Band and later held the same position with the Lakeside Band. He has given private lessons to numerous students, many who have gone on to play in college bands across the country. Tony was the band director for Assumption elementary school in Geneva for 10 years. Since 2006 Tony has directed band for Saints John & Paul; in 2011-2012 Tony assumed teaching duties at the high school, resurrecting the high school Band program.
Tony has two sons, Anthony Jr. '72 and Kevin '76, both graduates of Saint John High School. Tony and his wife, Helen, reside in Ashtabula. Tony is also a member of Ashtabula High School Hall of Fame.
Paul Laurello '81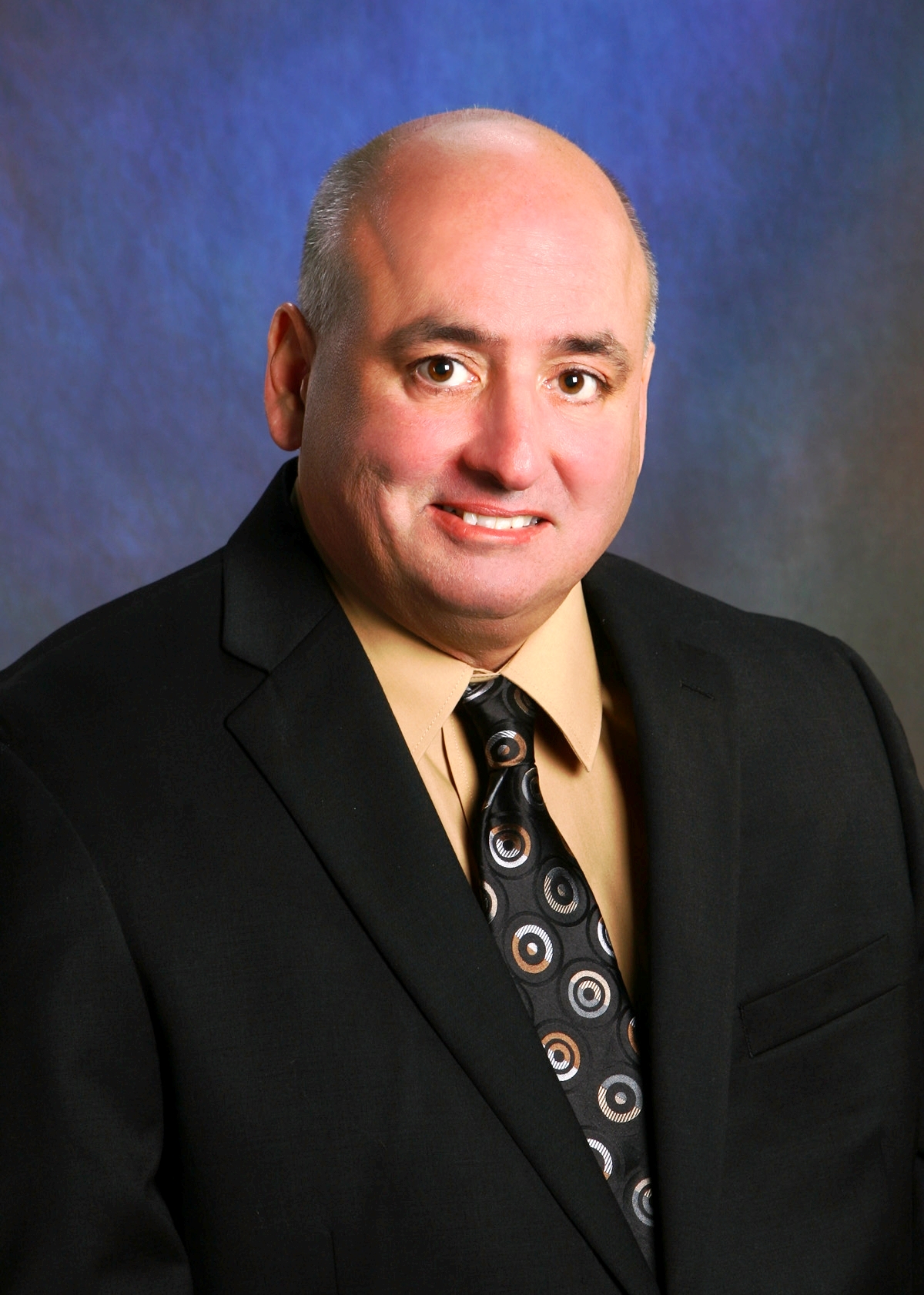 Paul J. Laurello was born in Pittsburgh, PA and is the son of Ida and the late C. Larry Laurello. He is a 1981 graduate of Saint John and ACJVS Machine Trades program. Paul's two brothers are Larry, St. John Class of 1977 and Michael "Mickey", St. John Class of 1979.
Paul is the owner of Delta Railroad Construction Inc., along with brothers, Larry and Michael, and cousin, Rick Ryel '77. He oversees Delta's equipment fleet and maintenance shop and is also responsible for equipment procurement and project logistics.
Paul resides in Austinburg with his wife, Stacey, and his 2 daughters, Jessica, Saints John & Paul Class of 2010, and Lindsay.
Paul was influenced early in life by his grandfather's love of the railroad construction business and was a fixture at Delta's shop along side of his grandfather Cosmo. Once Paul finished high school, he went to work for the family business as a heavy equipment operator, working his way up to being a construction superintendent in charge of large tie and rail gangs. His latest achievement has been to relocate the growing equipment remanufacturing division of Delta Railroad, Quality Track Equipment, to a 50,000 SF industrial building in Austinburg. Paul and his father designed and oversaw the interior modifications, including 40 ton crane rail installations, a new paint booth, wash bay and fabrication shop. The strong work ethic Paul possesses is a result of the positive influence he received as a young child, from his parents, Ida and Larry, and his grandparents, Josephine and Cosmo.
Paul is actively involved in the National Railroad Construction and Maintenance of Way Association and AREMA (American Railway Engineering and Maintenance of Way Association).
Paul is an annual contributor to the SSJP Scholarship Fund and Festival of Trees. He has staged many of the Homecoming bonfires at the school and many other projects the school needed assistance with.
Msgr. Willim Murphy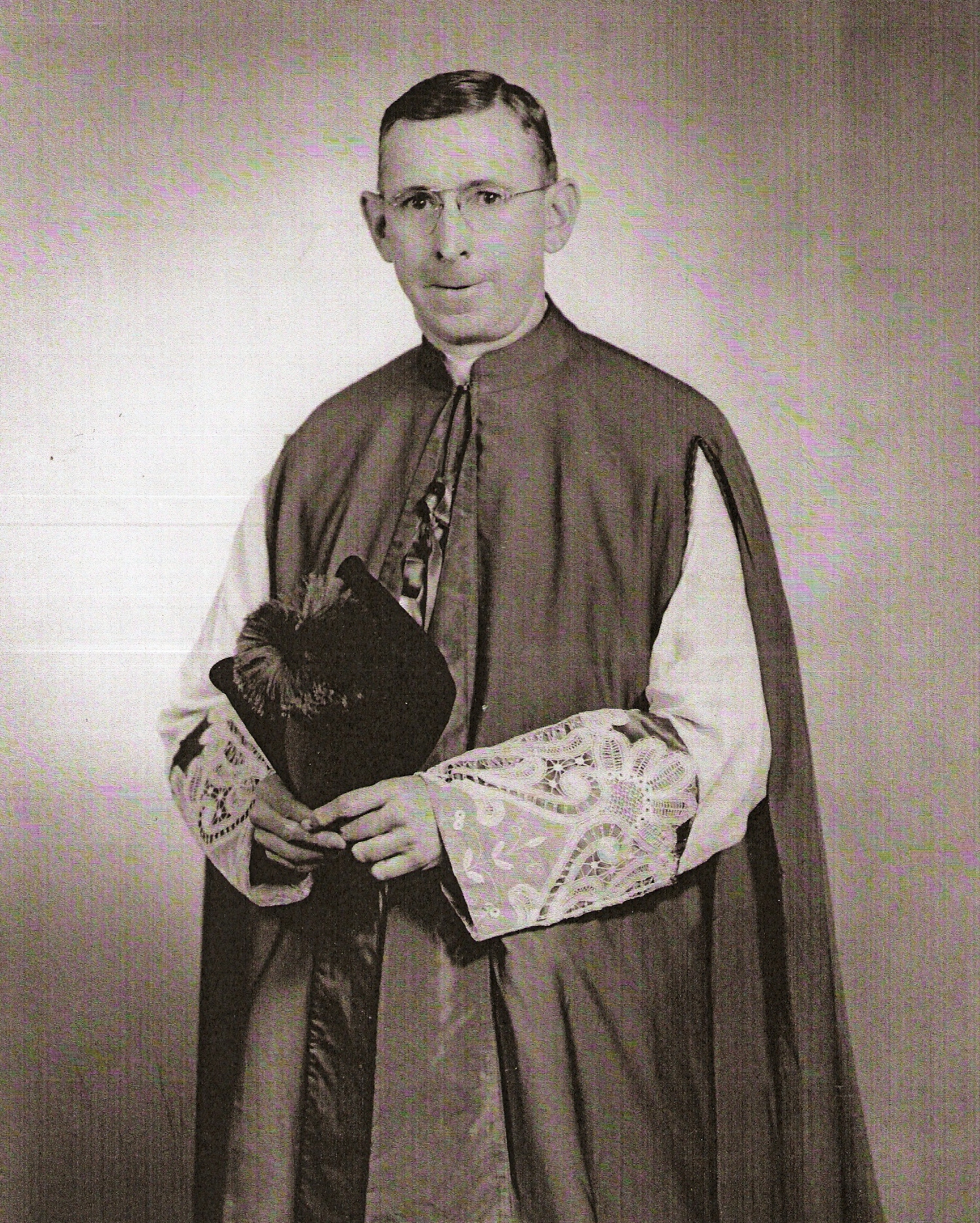 Monsignor William J. Murphy was born in 1892 in Cleveland, Ohio. A member of St. Colman's parish on the near west side of Cleveland, Msgr. Murphy attended the parish elementary school and then attended St. Ignatius High School. Upon graduating from St. Ignatius, he entered the minor seminary, St. Bernard's in Rochester, NY and upon graduation from college entered St. Mary's major seminary in Cleveland. He was ordained to the priesthood on April 17, 1922 at the Cathedral of St. John the Evangelist in Cleveland, OH.
After his ordination, Father Murphy was assigned first to St. Augustine parish in Barberton, Ohio and subsequently to St. Thomas Aquinas in Cleveland. In 1933, Father Murphy was appointed pastor of St. Patrick's church in Salineville where he ministered for nine years. In 1942, Father Murphy was appointed pastor of St. Joseph Parish in Ashtabula. Father served as pastor of St. Joseph until his death in 1967.
Msgr. Murphy was instrumental in the establishment of St. John High School. Recognizing the need for continuing the education of the students who graduated from St. Joseph Elementary School he advocated for the establishment of a Catholic high school in Ashtabula. His vision was for a regional school that would serve the students of St. Joseph, Mount Carmel and Mother of Sorrows – the three Catholic elementary schools in the area. He was willing to donate personal property along Route 20, but recognizing the need to open a school as soon as possible, he agreed to the purchase of the public school on Station Avenue so that St. John High School could open in 1953.
In those early years of St. John, Msgr. Murphy was extremely supportive of the school. He often used personal funds to cover unfunded expenses of the school. Although tuition was modest, there were families for whom it was still unaffordable. Monsignor paid for many families, often without their knowledge. He believed strongly that Catholic education should be available to all who desired it.
Msgr. Murphy was preceded in death by his two brothers and a sister. He has 4 nephews and 2 nieces.
Sister Maureen Tighe-Brown '59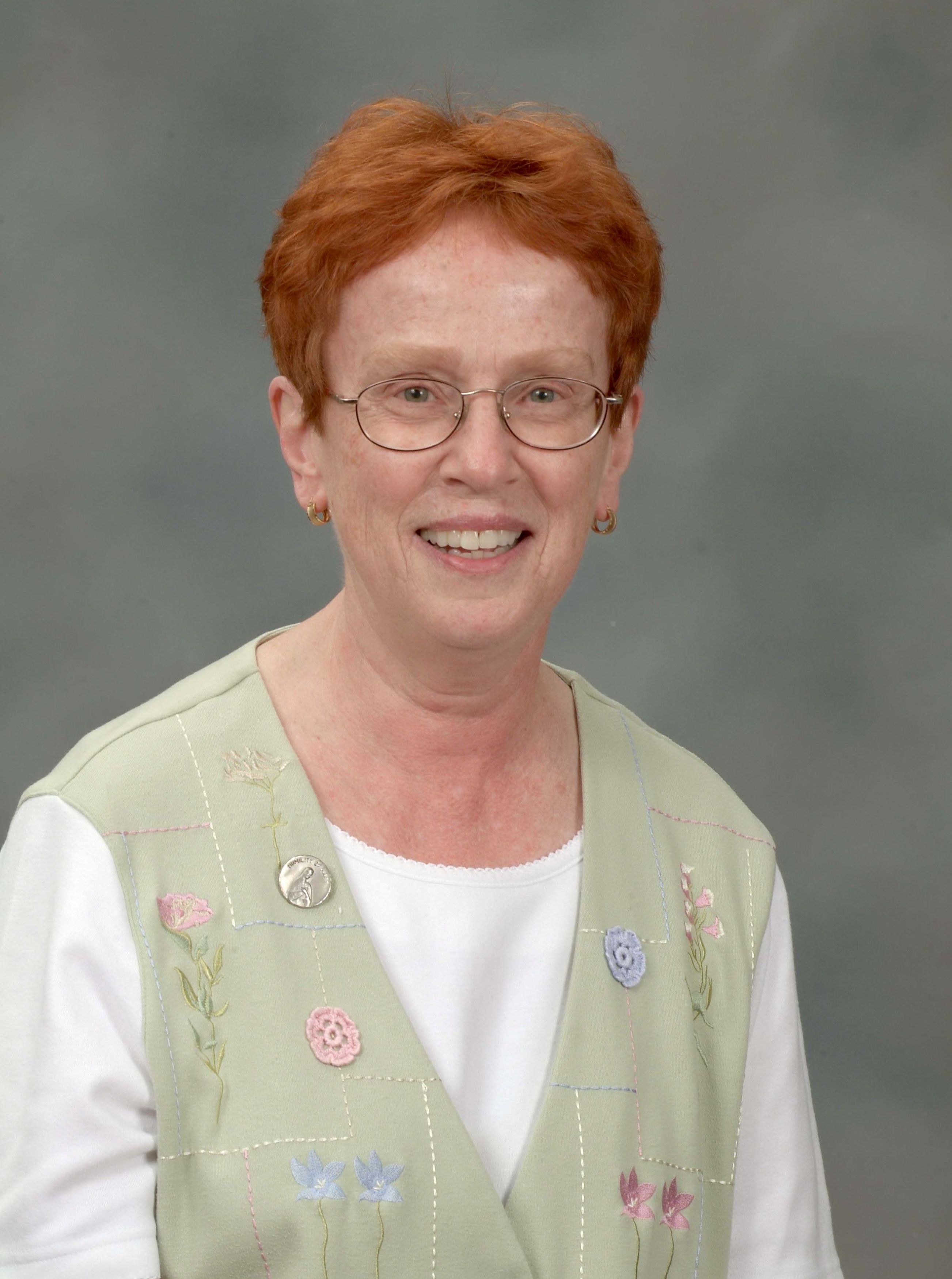 Sister Maureen Tighe-Brown is the daughter of Bernard, deceased, and Doris (Tighe) Brown. The Brown family have a long involvement with Saint John and Saints John & Paul School. Bernard Brown was a chemist who was invited by Sister Mary Rose Mullin (Sister Gregory) to be involved in a variety of Herald activities; Doris Tighe Brown taught at Mother of Sorrows School in Ashtabula from 1966-1979. Maureen has 3 siblings, Peter, Mark '68, and Molly '72, who is married to Tom Cuddy '71. Sister's nephew, Aaron Cuddy, is a 2001 graduate of Saints John & Paul.
Like fellow inductee, Sister Lucy Copek, Sister Maureen credits Saint John Physical Education teacher, Joann David Styles, with her involvement in basketball and bowling while she was a student. Sister Maureen was a scholar as well as an athlete, earning honors and achieving the award for highest course average in religion.
Upon graduation from St. John and a summer position as a nurse's aide at Ashtabula General Hospital, Maureen entered the Sisters of Humility of Mary in October 1959. She earned her Bachelor of Science in Nursing from St. John College and her Masters of Science in Nursing from Case Western Reserve University in Cleveland. Sister taught adult medical-surgical nursing and coordinated the program for Psychiatric/Mental Health nursing for St. Elizabeth Hospital School of Nursing from 1966-1989. Coupled with Maureen's love of nursing is her interest in history. Maureen earned a Masters of Arts in History and is currently a doctoral candidate at the University of Pittsburgh. The topic of her dissertation is European family history. Sister Maureen has also spent time as a University of Pittsburgh's Israeli Heritage Chair with a summer fellowship for historical research at the Hebrew university in Jerusalem. She was awarded the Lalor Fellowship for teaching excellence by the University of Pittsburgh in 1997.
Currently, Sister Maureen resides in Youngstown where, in addition to being a caregiver for her Mother, she is also a bereavement minister for St. Patrick's Church in Youngstown.
Sister Zoe Ann Reiter '59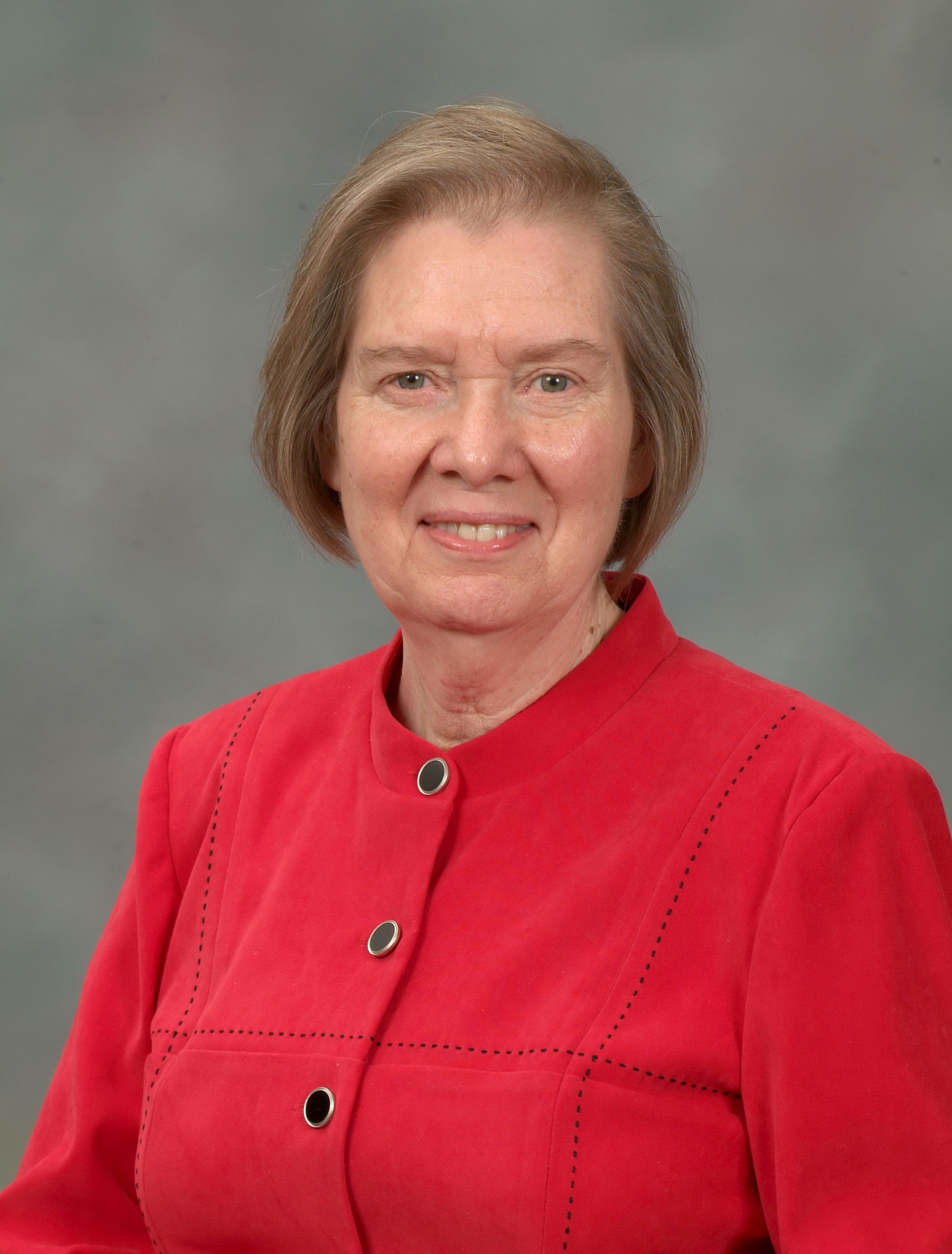 Sister Zoe Ann Reiter is the daughter of Isadore and Mary Francys (Ryan) Reiter of Ashtabula, Ohio. Sister Zoe Ann is one of five children: Jack, Nick, a member of the Class of 1961, Tina, a member of the Class of 1964, and Mary Margaret who was a member of the Saint John faculty in the late 1960's and early 1970's.
In high school, Sister Zoe Ann was active in student government, the Library Club and Future Teachers of America. She was also a majorette and played on the Basketball team. She also holds the record for being the "in-school" fencing tournament.
After graduation, Zoe worked at Carlisle's Department Store on Main Avenue until January 1960 when she entered the Sisters of the Humility of Mary, joining the others from her class who entered the previous October. She earned her Bachelor's Degree in Elementary Education from Saint John's College and also earned her Masters Degree in religious Education from Saint John's College.
Sister has taught in various Catholic schools in Niles, Canton, Youngstown, Cleveland, and Salem. From 1980-1995, Sister Zoe Ann served as Religious Education Consultant for the Diocese of Youngstown and traveled from Youngstown to Ashtabula, to Canton and to East Liverpool, working with parish staffs and religious education instructors. In 1995 she became the Director of Liturgy and pastoral minister at St. Michael Parish in Canton. Currently she is the Director of Religious Education at St. James Parish in New Bedford, PA, which is not too far from the headquarters of the Sisters of Humility of Mary in Villa Maria, PA.
In addition to her work in parishes and schools, Sister Zoe Ann has served as a facilitator for the graduate extension program of Loyola University, New Orleans, LA. An admitted "workaholic", Sister has a great passion for peace and justice and is looking forward to some day retiring and enjoying her love of nature.
William "Skip" Richards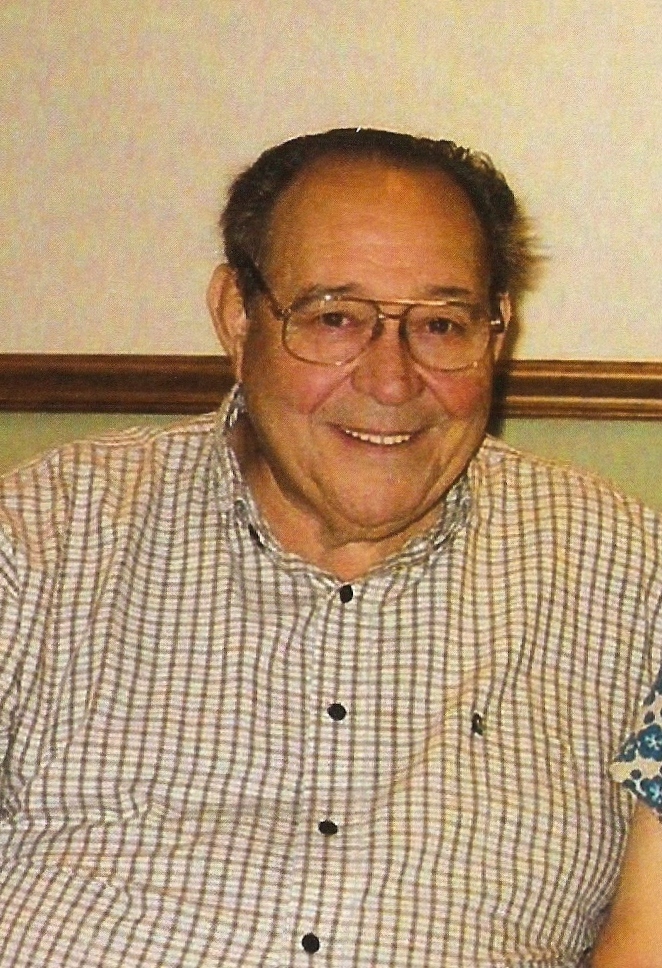 William "Skip" Richards is a life-long resident of Ashtabula, born in 1932 to Della and Herman Richard. Skip and his six brothers attended St. Joseph Elementary School.
Upon graduation, Skip spent 8 years in the army. He married his wife, Marilyn Falkner, on August 13, 1955. They are the proud parents of six herald alumni: Lonnie '74, Dale '75, Diane '76 (married to Tony Silva '71), Linda '78, Donna '81 and Paul '86. When his time in the army was complete, Skip opened a mechanical shop, "Richards' Car Care". In addition to being an expert mechanic, Skip knew his way around the kitchen and loved to provide meals and food for others.
All six of Skip's children are alumni of the school. Whatever, they were involved with, so was Skip. Lonnie was a cheerleader and Dale, Diane, Linda, and Donna were members of the band. Skip began the tradition of pizza parties after football games so that students and families would have some place to go after the game. He was a member of the "Gridiron Club" (football boosters) and was instrumental in starting the "Circle Club" a boosters' club for non-football sports and activities. From Sunday breakfasts, to spaghetti dinners, to selling advertisements for athletic programs, to hosting Thanksgiving dinners – Skip did it all. When Bill Schmidt needed assistance with the baseball program, Skip stepped in. His motor home became known as "The Chuck Wagon" since he was always supplying food for the team and their families.
Skip is a rabid Herald's fan. He was always in attendance at football, basketball, baseball and volleyball games. His loyalty was renowned and officials knew who was shouting "homer". Skip may have six official children, but unofficially, there are many Heralds who felt at home with Skip. Not only did he feed their bodies, but he fed them with sound advice and wisdom. St. John was a second home to Skip as students and parents became part of his "adopted family. Although, his allegiance to the Heralds is beyond question, Skip's generosity knows no bounds and so he also reached out to students from Buckeye, Jefferson and Erie.
Lou Valentic '74
valentic
Lou Valentic is a native of Ashtabula and a 1974 graduate of St. John High School. Lou and his wife, Evonne, are the proud parents of Trisha and Scott and the proud grandparents of Lucy and Kevin. Lou has two brothers who graduated from St. John: John is a 1971 graduate and Jim is a 1976 graduate. Lou's nephew, Michael, is a member of the Class of 2012.
Lou was a member of the basketball and tennis teams all four years during high school as well as playing on the baseball team for a year. Lou was also a member of the National Honor Society and the proud recipient of the 1974 True Herald Award.
Lou graduated with a Bachelor of Arts Degree in Secondary Education and Physical Education from the College of Wooster and earned his Masters of Education in Sports & Facility Management from Ohio University.
Lou served as the General Manager for Minor League Baseball teams in Salem, VA, Amarillo, TX and Beaumont, TX. He was named Texas League Executive of the Year in 1984. For the last 25 years, Lou has been employed by the K& K Insurance Group, the leading provider of insurance products to the Sports, Leisure & Entertainment industries and is currently the Senior Vice President for the Sports Division. In 1990, Lou was recognized by the Sporting News as one of the 100 most powerful persons in sports. The Ohio University Sports Administration Program also recognized Lou in 1992 as a distinguished alumnus. His professional career has taken him from Virginia to Texas to Indiana to his current home in Eatonton, Georgia.
Lou enjoys traveling and came back to Saint John & Paul in 2009 to celebrate the 25th anniversary of the Heralds winning the State Baseball Championship and to honor Coach Bill Schmidt. He also enjoys time on the golf course – especially when it can be with high school friends.