Dr. Nick Detore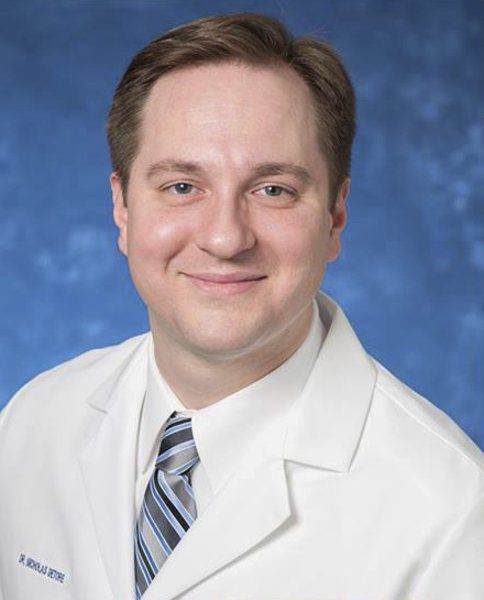 Dr. Nicholas "Nick" Detore, a 1999 graduate of Saint John, is a board-certified internist for the Lake Healthy system. Nick is not just a doctor that treats the physical ailments of his patients, he truly tries to understand the person by taking the time listen and to explain what he thinks is the best course of action.
Nick was the True Herald for the Class of '99 and also was active in Herald athletics, especially football. Nick attended John Carroll University and graduated in 2008. He taught Math at Saint John for the 2004-2005 school year.
Nick attended the Northeast College of Medicine and graduated in 2009. He completed his residency at Summa Health Medical, serving as chief resident. Nick joined Lake Health system in 2013 as part of Lake Health Physician Group Mentor Internal Medicine. Nick was named Lake Health Physician of the Year for 2017. According to a Lake Health news release, Detore was chosen as Physician of the Year for several reasons, including: Serving as a role model for the Lake Health RITSI Values - Respect, Innovation, Teamwork, Stewardship and Integrity; his constant and unwavering compassion, commitment and excellence in patient care, coupled with a warm bedside manner; and serving as medical director for the Center for Comprehensive Rehabilitation. Dr. Detore shows exceptional professionalism and compassion for his patients. He is always respectful, always willing to listen, and always thinking of how best to serve patient needs.
Nick is the son of Linda and Nick Detore, '72, (a member of the 2008 Hall of Fame Class). His brother, Brian, is a 2002 Saint John graduate. Nick is married to Michelle Carney Detore, '95, and the father of Nicholas and Meghan.

Pat Giannell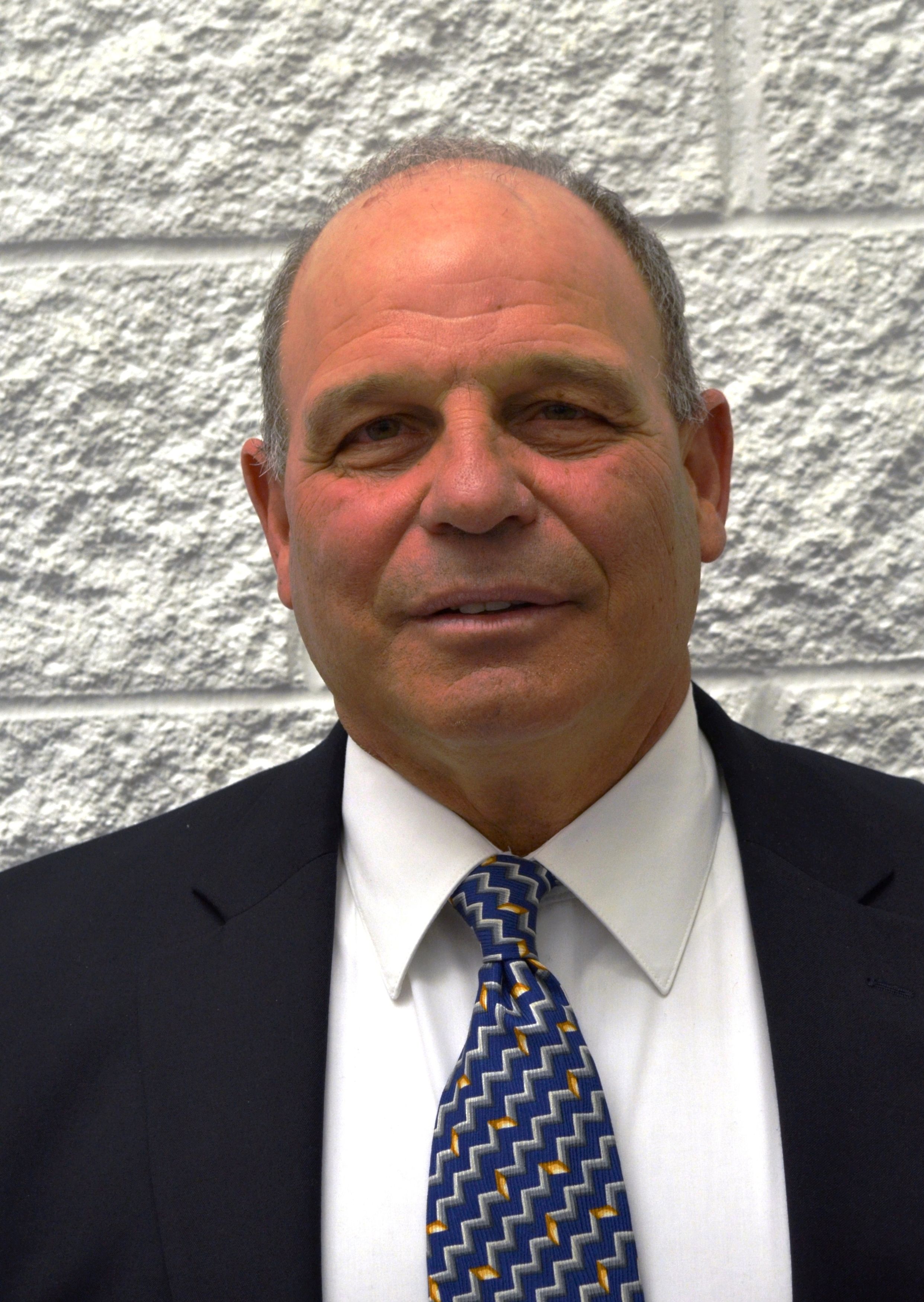 Pasquale "Pat" Giannell knows what it means to "step up to the plate". He has done it whole life, as a student, a teacher, a coach and most importantly as a son, husband and father.
Pat was born and raised in Ashtabula. He attended our Lady of Mount Carmel elementary school and then became a Herald graduating in 1975. After high school Pat attended Hiram College, graduating in 1980 with a BA. He then went on to earn his Master's Degree from the College of Mount Saint Joseph.
Pat is the son of Cecelia Giannell and William Giannell (RIP). His sister, Cynthia, is a 1967 graduate of Saint John School. Pat and his wife of 37 years, Susan, are long-time residents of Perry, Ohio and members of Saint Cyprian Parish. They are the proud parents of Rachel Giannell Morse and Anthony "Tony" Giannell. They are grandparents of four: Mariana, Carmela and Serena Morse and Kennedy Mayer.
While a student at Saint John, Pat was an outstanding football and baseball player. He earned All-Conference Awards in both sports. He was co-Most Valuable Player in Baseball in 1974 and 1975 and Athlete of the Year in 1975. That same year (1975) he earned recognition as All Ohio. At Hiram he earned many levels of honors including being named All-Cconference in the President's Athletic Conference and was the Hiram Male Athlete of the year in 1980.
For Pat, stepping up to the plate meant using his gifts and talents in the classroom and as a coach. Pat taught Social Studies in the Perry Local School System for 30 years and coached baseball for Perry as
well. In 1994 he was inducted into the Hiram College Hall of Fame and, in 2012, into the Perry High School Hall of Fame. In 2015 he was named to the 60th year all Anniversary Team of the President's Athletic Team.
Pat remains supportive of his high school alma mater attending events and staying in touch with classmates and teammates. In his spare time he enjoys the outdoors and when you call him you might find him out fishing, gardening or spending time with his grandchildren.
Tom Meola '76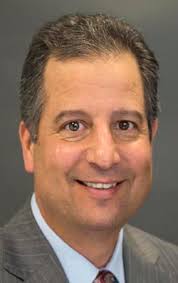 A 1976 graduate of Saint John, Tom attended Youngstown State University earning an undergraduate degree in Accounting and a Master's in Business Administration. While at YSU, Tom played football and was a member of the 1979 national championship team. He also received recognition as a member of the All-Conference Team. After graduation, Tom joined Premix, Inc., in North Kingsville, Ohio. During his tenure there, he held positions of Controller, CFO and President. Later he joined Northern States Metals in Youngstown, where he served as President and CEO. He is currently employed by ECKART America as VP and CFO. ECKART America is the industry leader in Effect Pigments in markets, such as Automotive and Industrial Coatings, Graphic Arts, and Cosmetics.
Tom resides in Ashtabula with his wife, Renee Varkette Meola, '76. They have two children, Krista Toula '04 (Joe) and Nicholas Meola, who will graduate from the University of Dayton this year. They have two grandchildren Tommy and Jackson Toula. He is the son of Donald (RIP) and Palma Meola and brother to Don '74, Ben '78 and Marianne '81.
While at Saint John, Tom excelled in the classroom and on athletic fields. He earned nine varsity letters in football, basketball, golf and track. In his senior year, he was named Most Valuable football Player . He also earned honors as an All-Conference and all-State player. This past year he was inducted into the Ashtabula County Football Hall of Fame.
Tom has served as a past Board Member of the Ashtabula County Civic Development Corporation, FM Global Insurance Advisory Board, and American Composite Manufacturing Association. In 2015, presented the Outstanding MBA Award by Youngstown State University Williamson College of Business Administration
Tom models the ethics and integrity he learned at Saint John. Proud of his accomplishments but always humble, he also realizes the need to give back to his community.
Rosemary Guerini Timonere '64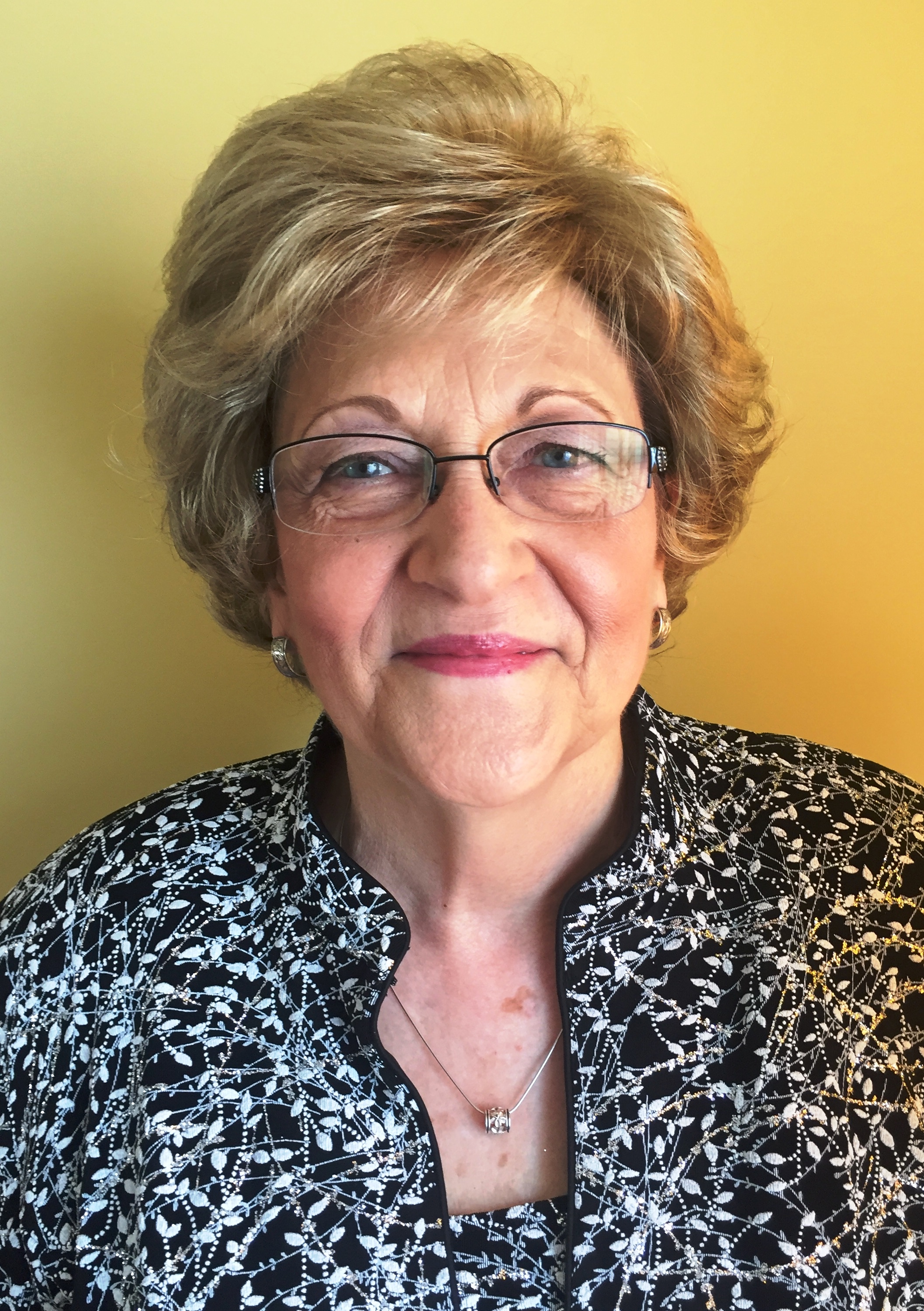 Rosemary Guerini Timonere, a 1964 graduate of Saint John High School, advocated for Gifted Education throughout her 48 year teaching career. Her interest in gifted students began as a first year teacher at Thomas Jefferson Elementary in Ashtabula, Ohio. After 20 years, she moved on to teach at Columbus Junior High. During this time, she collaborated with administrators, teachers, and parents to create a program to focus on the talents of the gifted and challenge them to reach their potential.
Following years of planning, the Gifted and Talented Resource Room Program (GTRRP) was established in the Ashtabula Area City School District. With 32 years of experience in the classroom, Rosemary was assigned to the Gifted and Talented Resource Room Program at Windermere School. After teaching in the GTRRP for nearly a decade, she culminated her tenure with 8 years as the District's Gifted Coordinator.
At St. John, Rosemary was recipient of the True Herald Award and the Olga Seline Dramatics Award. She was a member of the National Honor Society, Drama Club, Yearbook Staff, and Cheerleading Squad. Her classmates remember her as 'Anna' in the "King and I" and 'Mother Abbess' in the "Sound of Music".
Rosemary went on to Villa Maria College (Gannon University) in Erie, PA to pursue a teaching degree. She was elected President of Student Government; served on the Board of the Erie Council of Colleges; named Coordinator of The Child Study Club, and served on the staff of Villalogue, the VMC Publication. Rosemary held memberships in French, Sodality, Drama, and Ski Clubs. She was a volunteer tutor at St. Joseph's Orphanage, Our Lady's Christian School and Brooker T. Washington Center in Erie.
Rosemary received her Bachelor of Science Degree in Education from Villa Maria College in 1968 and is listed in Who's Who Among American Colleges and Universities. She received her Master's Degree from Edinboro University in 1984 and Gifted Certification in 1986.
During her career she held memberships in the National Education Association, Ohio Association of Gifted Coordinators, and The American Association of University Women. Rosemary was named a Martha Holdings Jennings Scholar and awarded the Teacher of the Year by the Ashtabula Star Beacon.
Presently, Rosemary serves on St. John's Curriculum Committee. She volunteers in the STAR testing program and helps coordinate the fall, winter, and spring testing schedule. Rosemary is a board member of Birthcare and attends the focus group for Hospice of the Western Reserve. She and her husband, James '62 are members of Our Lady of Peace Parish.
Rosemary is the owner of Elegante Wedding Stationery, a family business she inherited from her mother, Antoinette Guerini. Her business affords her the opportunity to assist brides with wedding invitations as well as St. John seniors with graduation announcements.
Rosemary and James have three children: Jamie '89, Jim '95, wife Janice, and Bryan, Lake Catholic '98, wife, Joy. The Timonere's have four grandchildren: Raymond, Raechel, Jimmy and Jenna.
Rosemary is the daughter of the late Michael and Antoinette Guerini and has a brother, Michael '70. Since 1994, the Guerini Family presents The Antoinette Guerini Memorial Award to several eighth graders, who demonstrate their faith and kindness to others.
After college, Rosemary returned to Ashtabula to be close to family and give back to her community. She feels blessed to have her grandchildren carry on the Catholic Education tradition. She enjoys attending and participating in all Saint John events.
A favorite quote used in Rosemary's gifted classes, "The future belongs to those who believe in the beauty of their dreams," by Eleanor Roosevelt.

Nelson Wittenmyer Esq. 83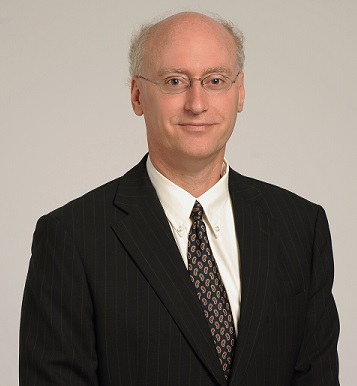 Nelson Wittenmyer knows what it means to give. He believes in using his skills to serve others. This has been the trajectory of his career path. He attributes his sense of giving to his Catholic education and to his parents. His parents raised seven children while running a farm. Nelson especially credits his mom who was always a giving person who prioritized others above herself without ever complaining. Nelson's six siblings also attended Saint John: Sally Wittenmyer Bailey, '77, James Wittenmyer,'79, Sandy Wittenmeyer Blank, '80, Suzanne Traves Wittenmeyer,'82, Sherri Wittenmyer Britton, '86, and Shirley Wittenmyer Turjanica,'88. Nelson is the Vice Chairman of the Philanthropy Institute at the Cleveland Clinic Foundation. He is responsible for the consultation and implementation of principal gifts, heritage gifts, and gift planning as well as the administration of Cleveland Clinic's PYRAMID Legacy Society. Nelson also serves as liaison to the General Counsel, Finance, and Real Estate divisions.
Nelson graduated with a law degree from Case Western University in 1990 and also earned his master of law in taxation from Case. He worked in employee benefits department at the law firm of Benesch, Friedlander, Coplan & Aronoff and also at Jones, Day, Reavis & Pogue in Cleveland in the executive compensation department. Nelson has served as an adjunct professor in the Masters of Taxation program at Case Western Reserve University's School of Law and at the University of Akron's School of Business. Additionally, Nelson has served on the Board of Directors of the National Committee on Planned Giving and as President of the Northern Ohio Planned Giving Council, as well as a consultant to numerous non-profit development departments throughout the Great Lakes region.
In addition to his work in Advancement, Nelson has served his college alma mater, Case Western Reserve as associate head coach of the Volleyball Team and has been the head coach of the CWRU Men's Club Team. In his position as coach, he was a member of the University Athletic Coaching Staff of the year both in 1997 and 2010 as well as the North Coast Athletic Conference Staff of the Year in 1997 and 1998.
Nelson was the valedictorian and True Herald of his class at Saint John in 1983. While at Saint John, Nelson was involved in a variety of activities – Student Government, Drama, Science Club, French Club, Latin Club and Art Club. He also ran track and was a four-year letterman competing in the half-mile, mile and 2 and 1 mile (1.61 km) relay team. He competed at the state championship in the 3200-meter relay team.
l