Pre-Kindergarten Program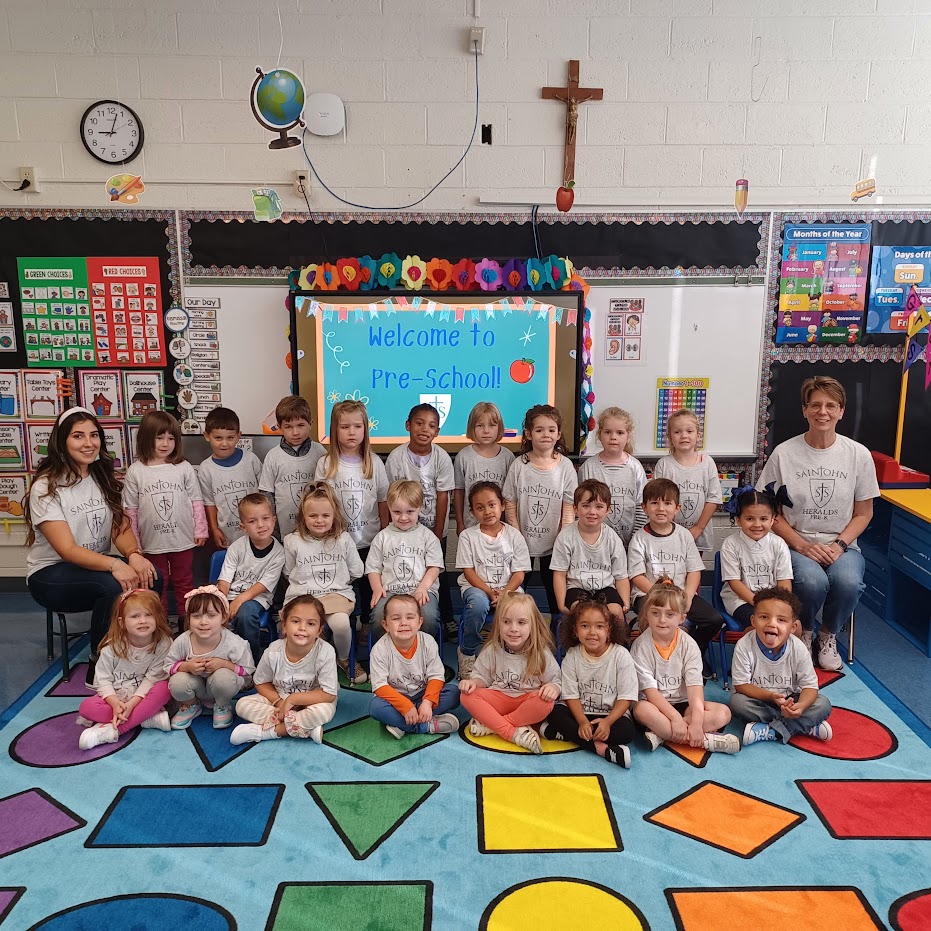 Full Day Everyday Program for 4-5-Year-Olds
The Saint John Pre-Kindergarten Program provides a Catholic Christian education with an optimal educational learning experience. Saint John Pre-Kindergarten reflects the best learning practices in a comfortable and stimulating environment as well as fostering an atmosphere of Christian love and concern.

Our curriculum addresses cognitive, social, emotional, spiritual and physical development of the whole child. The Pre-Kindergarten Program will:
Provide students a sense of self-worth as one of God's children while enhancing self-confidence and self-esteem in all learners.
Encourage each student to express him/herself as an individual through language development and creativity.
Provide opportunities for students to experience the fine arts through weekly art classes and music education.
Include weekly opportunities for Library time, physical education, and cooperative activities with our all-day, everyday, Kindergarten Program.
Encourage students to successfully function in a group of peers through cooperation, sharing, friendship and values.
Connect the students to the Saint John School community through inclusion in Holiday Parties, Christmas and Seasonal programs, and a Pre-Kindergarten graduation celebration.
Offer experiences that support and encourage emerging literacy
Provide concrete experiences with learning activities and problem-solving
Establish an environment that acknowledges and fosters the natural learning process, curiosity, and enthusiasm inherent in all young children.
Establish an environment that nurtures and values the development of children as individuals
Create an environment that acknowledges and continues the natural learning process, curiosity and enthusiasm inherent in all young children
Model a cooperative and supportive partnership between children, teachers and parents, establishing a positive connection between school and family.
Saint John School Pre-Kindergarten is open to any student who is at least 4 years of age prior to September 30 and independent in the restroom. State policy limits class size to no more than 14 students per class; however our classes are frequently smaller.

The all day class is Monday through Friday from 7:50-2:20. As a convenience to parents the school offers complimentary before school care beginning at 7:00. Families may also use an after care program until 5:30 for an affordable hourly fee. The Pre-Kindergarten academic year runs from late August to late May.
https://www.sjheralds.org/editoruploads/files/Pre-K%20Handbook.pdf