"You also must help us by prayer, so that many will give thanks on our behalf for the blessing granted us through the prayers of many." (2 Corinthians 1:11)
The prayer of a righteous person has great power as it is working. Elijah was a man with a nature like ours, and he prayed fervently that it might not rain, and for three years and six months it did not rain on the earth. Then he prayed again, and heaven gave rain, and the earth bore its fruit." (James 5:18)
In addition to remembering in prayer each day our faculty, parents, students and families, we also include Herald family and community members as our prayer partners each month.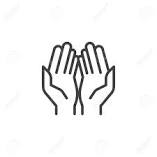 They are being recognized for partnering with us for sharing their gifts of time, talent and/or treasure. Some are held in special prayer for strength and healing from illness. We will remember them by name during morning announcements and with a special prayer card.
June Prayer Partners
1-Jun
Our Amazing Teachers!
2-Jun
Barb & Ken Kovach
3-Jun
John & Pat Gilpin
6-Jun
Monica & Jim Gribus
7-Jun
Maria Czup Fowler
8-Jun
Marlene & Gerry Cornelius
9-Jun
Bernice Teston