Under Construction
Our Depot Road campus gets bigger and better everyday. There could not be a better time to Be a Herald!
2022-23 Enrollment is open!
We are now meeting and touring families interested in enrolling at Saint John School for the 2022-23 school year. Space is very limited in several of our classes and we suggest contacting Mr. Corlew in our admissions office to get started. 440.997.5531 X 226 or kcorlew@sjheralds.org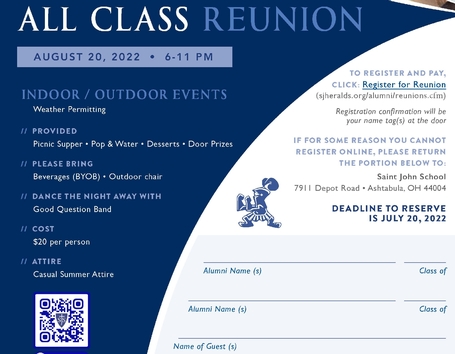 Saint John All Class Reunion
All Class Reunion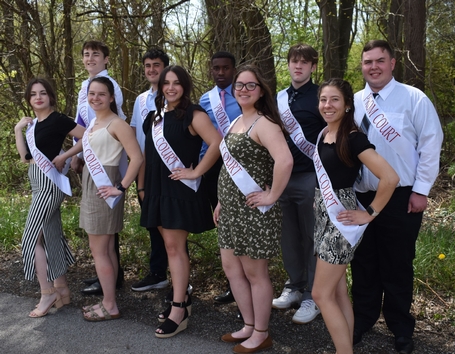 2022 Saint John Prom Court
The 2022 Saint John School Prom Court: Back (L to R) Kaden Johnston, Andrew Grippi, Andrew Williams, Tommy Kirk, and Nathan Wilms. Front (L to R) Natalie Fowler, Anya Shevchik, Lily Nagy, Adriana Gonzalez and Arianna Hernandez.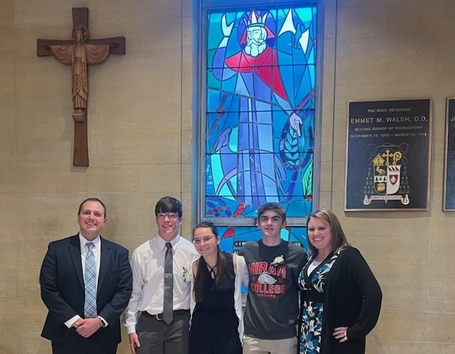 2022 Eagle of the Cross recipients
Congratulations to seniors Devyn Mercilliott and Anya Shevchik, Saint John School recipients of the Eagle of the Cross award and Ian Fuentes, Assumption Parish Eagle of the Cross recipient. The Eagle of the Cross is an award given annually in the Diocese of Youngstown to outstanding junior and senior high school students who show particular zeal in the improvement of their own parish ministry programs, high school ministry team or youth work in general.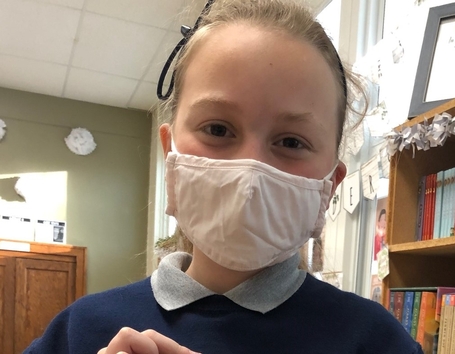 Delaney Tirotta wins contest!
Sixth grader Delaney Tirotta recently entered the Northeastern Chapter Ohio Middle School Brochure contest and won! Her brochure will now go to the Ohio Society to be judged alongside other students from all over Ohio. She had to create a brochure that discussed one of the five founding documents. She chose the Articles of Confederation. She said she chose it because, "It was something new that I didn't know much about and wanted to learn more about it!" Great job Delaney!!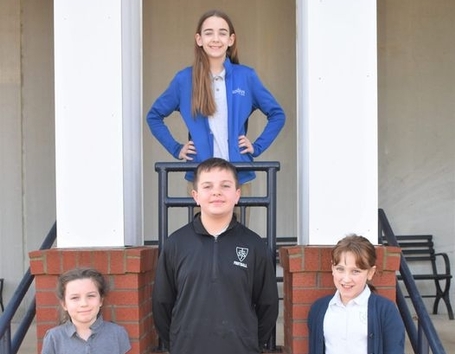 April Students of the Month
April students of the month were recognized for their leadership. Front: Clare Moncrief, grade 1, Joseph Crawford, grade 6, and Livy Davis, grade 2. Back: Emma Call, grade 7. Congratulations Heralds!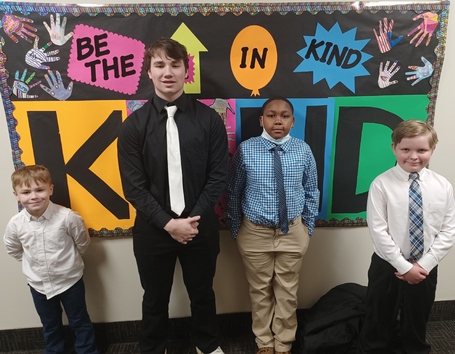 March Students of the Month
Saint John School Students of the Month for March 2022 were chosen using the core value of kindness. Left to Right: Jaxon Baker, Kindergarten, Ryan Williams, grade 9, Aiden Lee, grade 4, Jayden Steele, grade 3. Congratulations Heralds!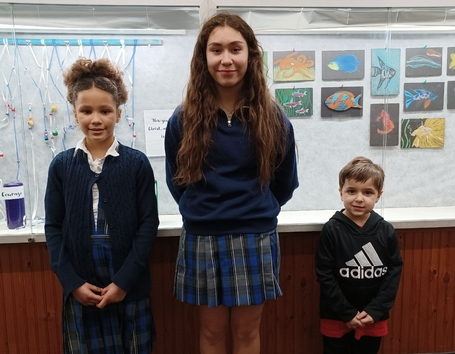 February Students of the Month
Saint John School Students of the Month for February 2022 were chosen using the core value of friendship. Left to Right: Averyanna Tackett, grade 2, Isabel Martinez, grade 10 and Legend Lampela, PK. Not pictured is Leahamaya Afanador, grade 5. Congratulations Heralds!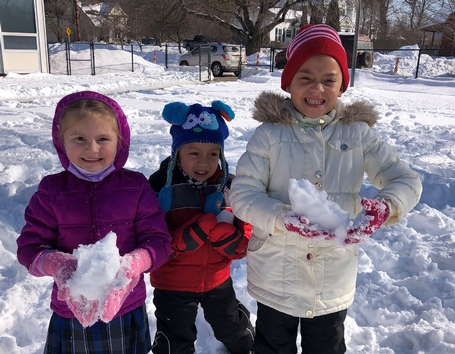 Kindergarten Assessment is April 1
Our first Kindergarten Readiness Assessment (KRA) for students who wish to enter the Saint John Class of 2035 is set for Friday, April 1. Please contact Mr. Keith Corlew at 440.997.5531 X 226 or kcorlew@sjheralds.org to schedule your appointment. **This KRA day is for students who will be new to Saint John School and not currently enrolled in our PK.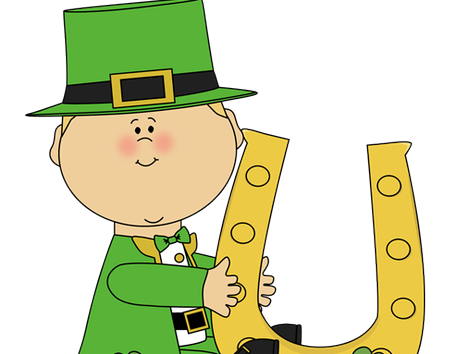 2022 St. Patrick's Day Raffle
The St. Patrick's Day Raffle and 7 Lucky Nights has started! Play and Win online this year. Early bird raffles February 28-March 4, bidding begins on March 5. Go to www.bidpal.net/stpat22 to get registered. Direct your questions to Christy Garrod Kovacs at 440.998.5531 X 223.
Read More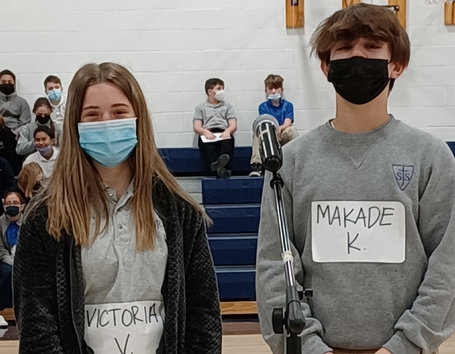 Saint John School Spelling Bee
Victoria Valentic '26 and Makade Kanicki '26 were the two finalists in the Saint John Middle School Spelling Bee competition. Victoria will move on to represent Saint John at the Ashtabula County Bee competition on February 3.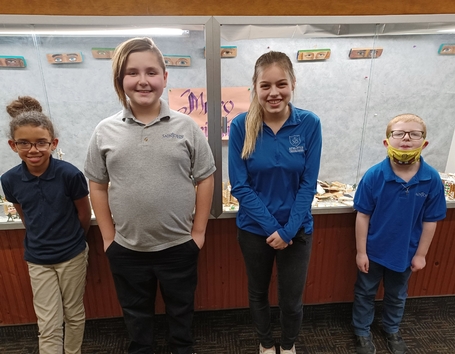 January Students of the Month
The mission of Saint John School is to Develop Scholarship, Inspire Leadership and Deepen Faith in all of our 503 students. The January students of the month were chosen for their dedication to deepening their faith. Congratulations to Brooklyn McCabe (grade 3), Lincoln Severino (grade 6), Cienna Wojcieck (grade 11) and Jesse Collins (grade 1).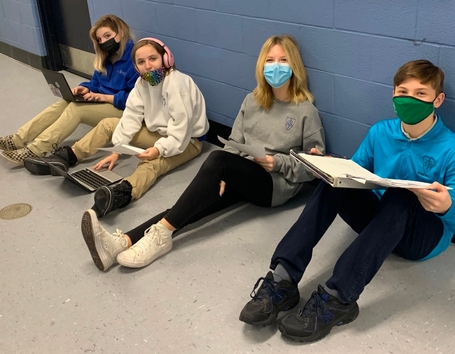 Power of the Pen
Four Saint John students have advanced to the regionals of the Power of the Pen competition. Rylee Frasure '27, Josie Hall '27, Malena Gottwig '26 and Natalee Schor '26 will all compete in the virtual event hosted by Hudson Middle School on March 5.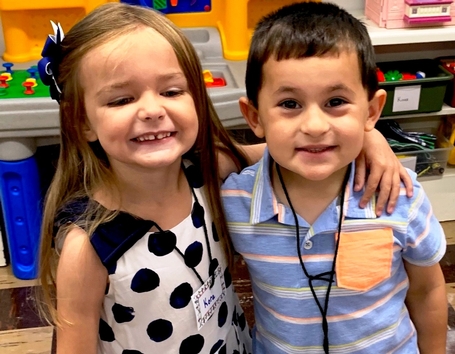 Herald Double Day
Herald Double Day is November 10. All gifts made prior to Thanksgiving will be matched. Consider making your Herald Fund gift now. Your gift is tax deductible. This year your gift will enable us to increase safety and security across the campus and update the entrance to the school.
Read More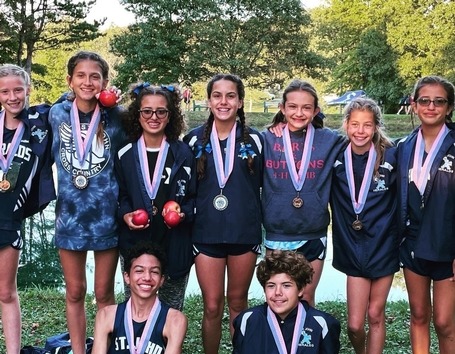 Cross Country County Champions!
Junior High Girls Cross Country team WINS the County Meet and are the 2021 COUNTY CHAMPS! Alexa Jordan finished 2nd overall, Marlee Beacom was 3rd (both podium finishes), Selena Park 6th, Sofia Park 10th, Maddie Holler 11th, Amelia Kelner 12th and Kylie Bilbrey 14th (all medal finishers). Cody Fuentes WON the junior high boys race and is the individual COUNTY CHAMPION. Jermaine Jennings took 8th place and was a medal finisher. The boys team earned third place overall. Great job runners and coaches!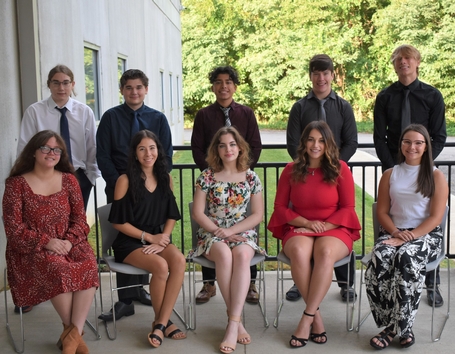 2021 Homecoming Court Announced
The 2021 Saint John School Homecoming Court. Queen candidates L to R are Adriana Gonzalez, Arianna Hernandez, Natalie Fowler, Lily Nagy and Anya Shevchik. King candidates L to R are Anthony Keck, Dominic Keck, Rodrigo Llamas, Devyn Mercilliott and Tyler Cathcart. Queen and King will be announced before the home football game with Beachwood on Friday, October 1 at Spire.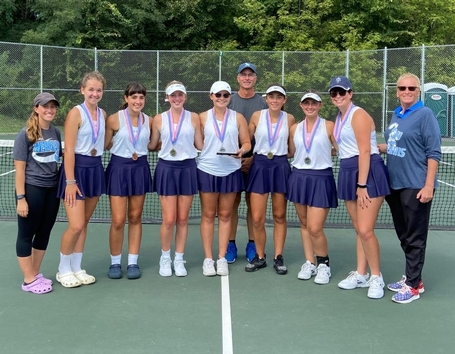 Tennis is second in the County!
The Varsity Girls Tennis Team took second place at the County Tournament! Alyssa Cevera--first place--first singles. Colleen Andersen--first place--second singles. Maddie Blenman--second place--third singles. Grace DiSalvatore/Rylee Schor--third place--first doubles. Kiden Housel/Anya Shevchik--second place--second doubles. Great job Heralds!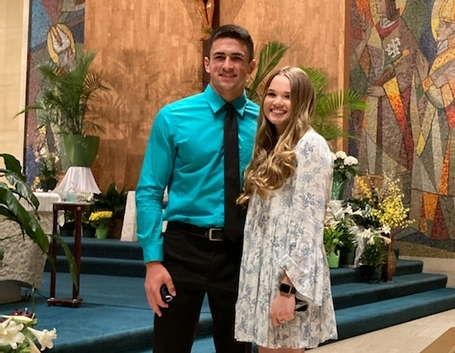 2021 Eagle of the Cross Recipients
The Eagle of the Cross award was originally created by the National Federation for Catholic Youth Ministry (NFCYM), and is the highest honor the Diocese of Youngstown presents to youth who show particular zeal for the improvement of their parish youth ministry program, high school ministry teams or other ministries within the diocese. Recipients must be practicing Roman Catholics and exemplify the qualities of moral integrity, prayerful/spiritual life, personal outreach to church and community, contribution to parish and/or school programs, and Christian leadership. Involvement in diocesan programs is also considered. The award is not geared toward quantitative service hours, but to the integrity of the individual and how well she or he is perceived as an outstanding Catholic Christian. Since 1999, 583 youth have received the Eagle of the Cross Award, including a few who have gone on to become priests, seminarians, postulants, parish ministers, parents, and outstanding Catholic witnesses in their college and work lives. We are thrilled to announce that Saint John seniors Morgan Anderson and David DiSalvatore have been named Eagle of the Cross recipients for 2021.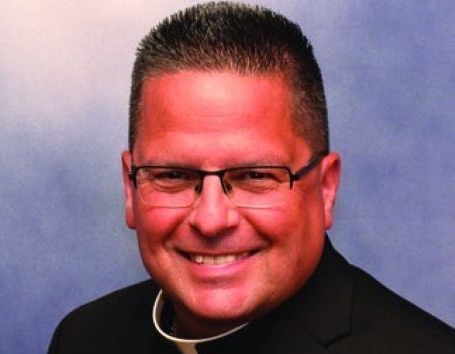 Welcome Bishop David J. Bonnar!
We are happy and blessed to welcome Bishop-Elect David Bonnar as Bishop of the Diocese of Youngstown. Bishop Bonnar was installed on January 12, 2021. Bishop-elect David J. Bonnar was born in Pittsburgh the fourth of five children to George and Mary Bernadette (Wilson) Bonnar, both of whom are deceased. His dad was a butcher and meat manager for Thorofare Markets and his mom was the consummate homemaker. He attended Saint Gabriel of the Sorrowful Virgin School and graduated from Seton LaSalle High School. Bishop-elect Bonnar is a graduate of Duquesne University with a B.A. in Social Communications. He received his S.T.B. from the Pontifical Gregorian University, Rome and was ordained a priest for the Diocese of Pittsburgh on July 23, 1988.Bishop-elect Bonnar served as a parochial vicar at St. Vitus, New Castle, St. Rosalia, Greenfield and St. Thomas More, Bethel Park. He served as pastor of St. Bartholomew, Penn Hills, St Bernard, Mt Lebanon and Administrator of Our Lady of Grace, Scott Township. He is presently pastor of St. Aidan, Wexford. He served as Rector of Saint Paul Seminary, Director of Pre-Ordination Formation, Director of Vocations and the Director of the Permanent Diaconate. For the Diocese of Pittsburgh he served as Secretary of Parish and Ministerial Leadership and the Vicar of Clergy. For 12 years Bishop-elect Bonnar was chaplain of the Pittsburgh Steelers and is currently editor of The Priest Magazine which is a national publication for priests published by Our Sunday Visitor.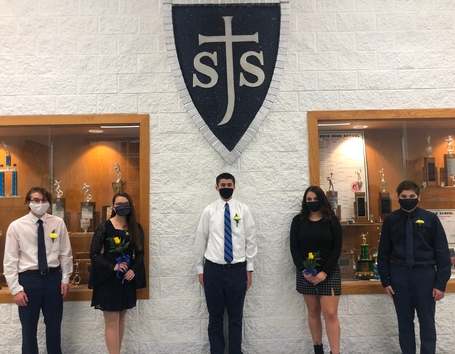 NHS inducts six new members
Congratulations to the newest members of the Saint John School National Honor Society (NHS) inducted last night. Group photo left to right: Anthony Keck, grade 11, Anya Shevchik, grade 11, Andy Grippi, grade 11, Lily Nagy, grade 11, and Dominic Keck, grade 11. Not pictured is senior Dru Hathy, who participated via Zoom.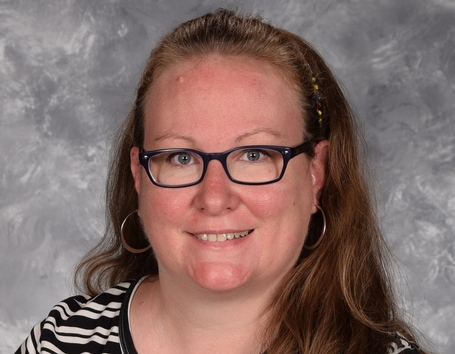 Mrs. Bethanie Cox--New Kindergarten Teacher
Entering her fourth year at Saint John School, Mrs. Bethanie Cox isn't new to Saint John, but she is new to Kindergarten. After recently completing her degree from Youngstown State University, Mrs. Cox has moved across the hall from Pre-K to join Ms. Zullo in our Kindergarten. Mrs. Cox lives in Conneaut with her husband (Kris) of 15 years, daughters Rory '30 and Raelyn '32, two Siamese cats and a new Great Pyrenees/Shepard puppy. A member of Corpus Christi Parish, she enjoys spending time with family and friends, traveling and the outdoors. Mrs. Cox truly loves the sense of family at Saint John, including students, parents, faculty and staff. She feels blessed to be a Herald and even more loves that her children are also in the Herald family. Thank you, Mrs. Cox!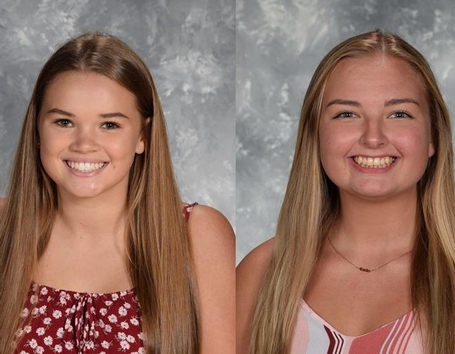 Student Council Officers Named
Student Council 2020-2021 Student Body Officers: President: Morgan Anderson Secondary Officers: Hanna McClure and David DiSalvatore Senior Class 2021 President: Katie Kovach Secondary Officers: Olivia Passerell and Julianne Sheldon Junior Class 2022 President: Lily Nagy Secondary Officers: Anastashia Shevchek and Tyler Cathcart Sophomore Class 2023 President:Cienna Wojcieck Secondary Officers: Kiden Housel, Eva Oster, Jacob Timonere Freshman Class 2024 President: Nicholas McClure Secondary Officers: Lisa Bosley, Grace DiSalvatore and Rylee Schor
Save the Date: Virtual Festival of Trees!
Bishop David J. Bonnar installed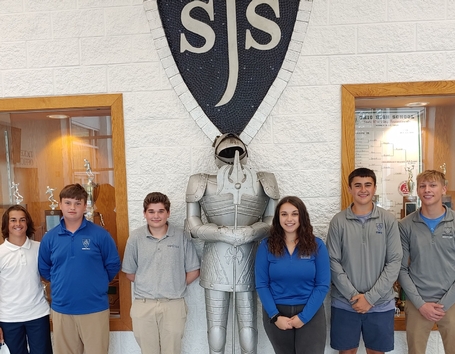 21-22 Student Body Officers
Students in grades 7-12 named Student Body Officers for the 21-22 school year are Anthony Severino, Donald Crawford, Dominic Keck, Lily Nagy, Andy Grippi and Tyler Cathcart.
Youth Wrestlers advance to districts!
This past weekend ALL 12 of our varsity youth wrestlers placed at sectionals and have qualified for district competition in Canfield. Congratulations Ethan, Miranda, Christian, Declan, Vince, Carter, Tanner, Bryson, Noah, Michael, Graham and Stevie! Thank you youth coaches Scott Blank and James Gridiron.