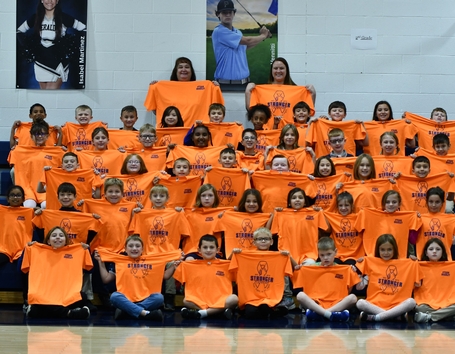 Paint the Gym Orange
Monday, October 2 the volleyball team will host a paint the gym orange night. Orange is for kidney cancer awareness and one of our 3rd graders is currently undergoing treatment for Wilms, a type of kidney cancer. Please come join us for this great cause!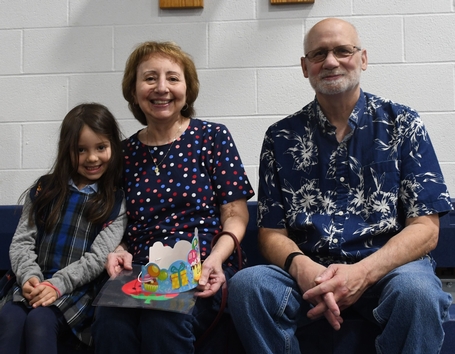 Grandparents Day Liturgy
Please join us on Wednesday, October 4 for a special Grandparents Day Liturgy on the Feast of Saint Francis. Please note that this replaces the Grandparents Day Liturgy that has historically taken place in May. We would also appreciate your RSVP by October 2 to ensure proper seating. We will also offer a Blessing of the Pets at 6:00 pm at the outdoor pavilion.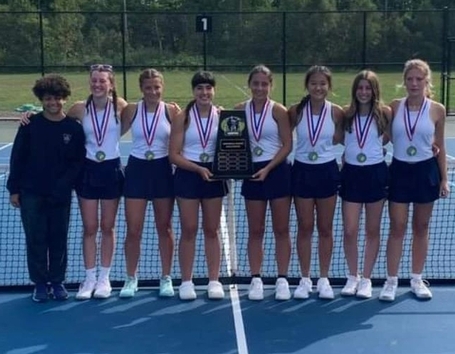 County Champs Again!
The varsity girls tennis team recently captured their 5th County team title in the last 7 years. In what is also believed to be a County first, the girls captured all the flights and every championship spot!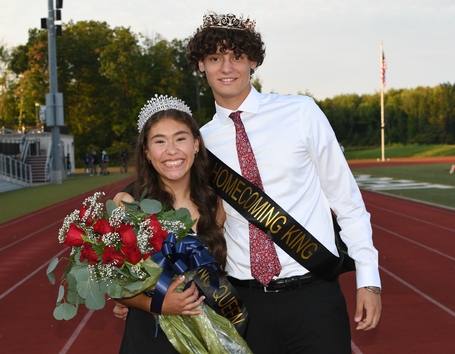 Homecoming 2023
The 2023 Saint John School Homecoming Queen is Izzy Martinez, and the King is Bryson Vennitti. Congratulations Heralds!!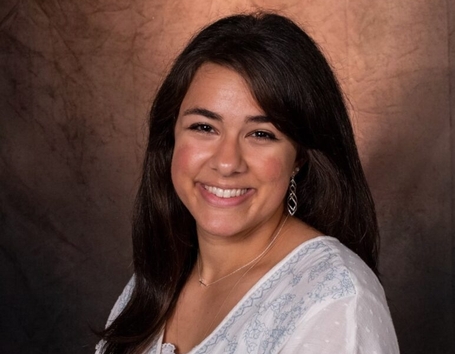 Alumni News: Maddie DiSalvatore '18
PRESS RELEASE August 21, 2023 CONTACT: Justin Huyck, Director of Communications; (330) 744-8451, ext. 320, jhuyck@youngstowndiocese.org Expanded mandate of Department of Missionary Discipleship in support of young people The Most Reverend David J. Bonnar, Bishop of Youngstown, is pleased to announce the appointment of Madeleine DiSalvatore as Director of Youth and Young Adult Accompaniment, Discernment, Formation and Missionary Discipleship, effective September 1, 2023. Ms. DiSalvatore will work within the Diocese of Youngstown's Department of Missionary Discipleship, led by Very Rev. John-Michael Lavelle, Vicar for Missionary Discipleship. With Ms. DiSalvatore's appointment, the expanded responsibility of the Department of Missionary Discipleship includes accompaniment, outreach, and programming with high school youth and young adults in their twenties and thirties as part of its overall mandate to support missionary discipleship and participation for all ages. In addition to Ms. DiSalvatore's appointment, Bishop Bonnar has appointed Rev. Ryan Furlong and Rev. Matthew Zwilling as chaplains for youth and young adult missionary discipleship, supporting the work of Father Lavelle and Ms. DiSalvatore. With his appointment as chaplain, Father Furlong completes his time of service as Director of Youth and Young Adult Ministry, and remains the pastor of three parishes: St. Robert (Cortland), St. Thomas the Apostle (Vienna), St. William (Champion), and also chaplain at John F. Kennedy Upper Campus (Warren). Father Zwilling is the administrator of Christ the Good Shepherd Parish (Campbell) and St. Paul the Apostle Parish (New Middletown). In her new role, DiSalvatore will accompany and form disciples for Jesus Christ through a ministry of presence, programs, and missionary service. With the bishop and vicar for missionary discipleship, she will establish a strategic plan, oversee the diocese's Youth and Young Adult Ministry Council, coordinate established and new youth and young adult ministry events, support parish youth ministers in collaboration with the diocesan Office of Lay Ecclesial Formation, network with high school and university campus ministries, engender leadership and service among young people, foster discernment opportunities, represent the bishop and diocese in national groups, work with the communications department on effectively reaching young people, and take responsibility for administrative and oversight functions, in collaboration with the diocese's finance, safe environment, and other offices. Madeleine ("Maddie") DiSalvatore comes to the diocese after serving as Campus Minister at John F. Kennedy Upper School. She is a graduate of Walsh University (North Canton). DiSalvatore is herself the product of the Diocese of Youngstown's robust legacy of youth ministry, and was actively involved in the youth ministry core teams at her home parish of Our Lady of Peace and at Saint John School, both in Ashtabula, and as a college student was a youth ministry volunteer at Sacred Heart of Jesus Parish in Wadsworth, Ohio. She has experience in leading retreats and small faith groups, various prayer experiences, and in music ministry as a cantor and flutist. At Walsh, she was active in campus ministry and served on the retreat, small group, and administrative teams, including as director of the administrative team, and also received training in peer ministry through Walsh's Residence Life. She was particularly active with service projects and initiatives at Walsh as co-President of the Community Kitchen Club and as a member of the Blouin Leaders in Social Justice Program, with contextual learning about the effects of poverty in the Canton area and beyond. Her service experience includes the Catholic Worker House in Alliance, Ohio and house construction in Walls, Mississippi. DiSalvatore was a three-year Peacemaker at Walsh and earlier received the True Herald Award from Saint John School and the Eagle of the Cross from the Diocese of Youngstown. She was also a TOWERS Award Finalist at Walsh University. Bishop Bonnar comments, "I am excited to welcome Maddie to our team. Her passion, energy, and experience will serve us well in programming but, more importantly, in accompanying young people, leading them to an encounter with Jesus Christ, and helping them embrace their part in the Church's mission. This is what Pope Francis has challenged us to do in Christus Vivit, The Joy of the Gospel, and with his emphasis on a synodal and listening Church, honoring the unfolding story and discipleship of each young person." Ms. DiSalvatore comments, "I am excited and honored to be in a position where I can both learn from and be of assistance to other youth and young adult ministers from every corner of the diocese. My goal is to not only help enkindle the fire of love that the Holy Spirit has already set within the hearts of our young people, but also help inspire and be inspired as together we provide the space to reach those on the peripheries of society and on the peripheries of our wonderful faith. Together, set aflame with God's love, we can help our youth and young adults come to the fullness of truth of their identity as beloved children of God." The Catholic Diocese of Youngstown encompasses six counties in northeast Ohio: Ashtabula, Columbiana, Mahoning, Portage, Stark, and Trumbull.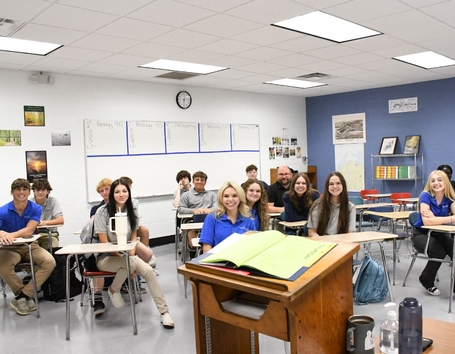 First day of classes
Thursday, August 17 we brought in and welcomed back 575 students in grades PK-12. This years' school theme is "We See The Leader In You".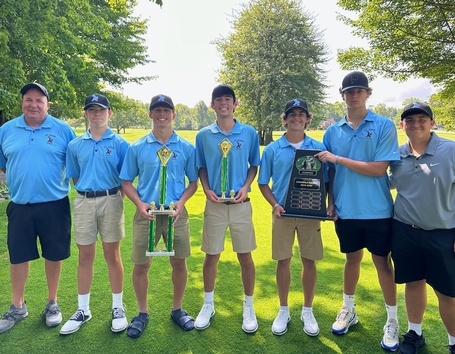 Golf wins Karl Pearson Invitational
The boys golf team could not have started out their season any better. They recently captured the Karl Pearson Invitational, and junior Jack Varckette was the tournament medalist.
New Opportunity for Scholarships
Ohio Governor Mike DeWine signed the budget bill for the next two fiscal year.
An important part of the budget is the expansion of the EdChoice Scholarship Program. Now all families are eligible for the scholarship. The amount is based on a sliding scale. A family of 4 with an income under $135 would be eligible for $ 6,165 for grades K-8 and for $8,407 for grades 9-12. Please contact Mr. Corlew for more information.
New student applications for 23-24
Saint John School is now scheduling new family and student visits/tours for the upcoming 2023-24 academic year. A number of grades have very limited space and several scholarship opportunities are available. Contact Mr. Keith Corlew at 440.997.5531 X 226 or kcorlew@sjheralds.org to start the application process. You have a choice in education--choose Saint John School!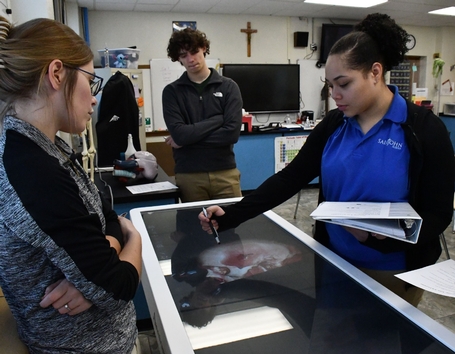 Anatomage Table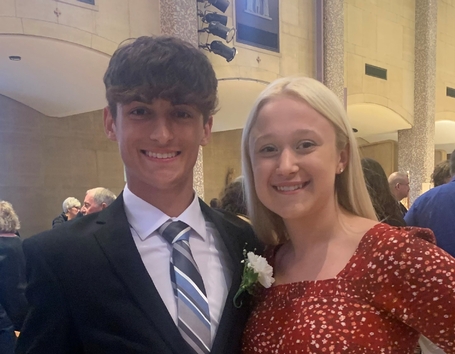 Eagle of the Cross
The Office of Youth and Young Adult Ministry of the Catholic Diocese of Youngstown is pleased to announce the recipients of the 2023 Eagle of the Cross Award. The Eagle of the Cross was created by the National Federation for Catholic Youth Ministry (NFCYM), and the yearly award was introduced to the Diocese of Youngstown in 1999. The award is presented to extraordinary upperclassmen in the six counties of the Diocese of Youngstown who model Christian discipleship and exemplify the qualities of moral integrity, prayer, good works and Christian leadership in their school and parish communities. The Most Rev. David J. Bonnar, Bishop of the Diocese of Youngstown, presented the awards at a ceremony on Monday, May 1, 2023 at Saint Columba Cathedral in Youngstown. ASHTABULA COUNTY: Recipients demonstrating outstanding involvement in a diocesan Catholic school: Eva Oster – Saint John School, Ashtabula; Our Lady of Peace Parish, Ashtabula James Severino III – Saint John School, Ashtabula; Our Lady of Peace Parish, Ashtabula Heralds Deepening Faith!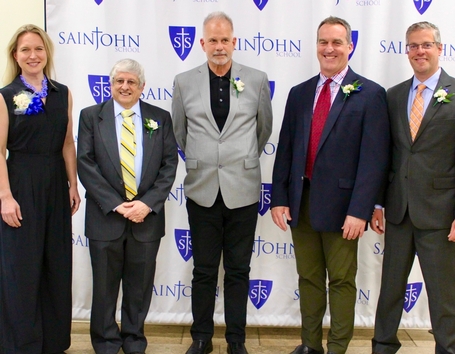 Herald Hall of Fame 2023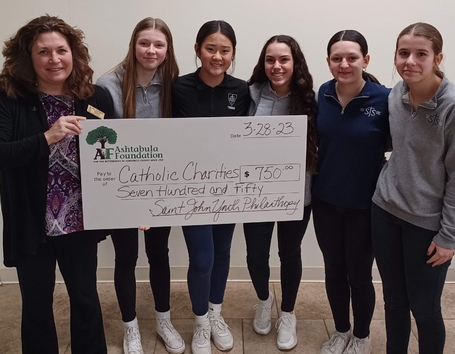 Philanthropy Board 2023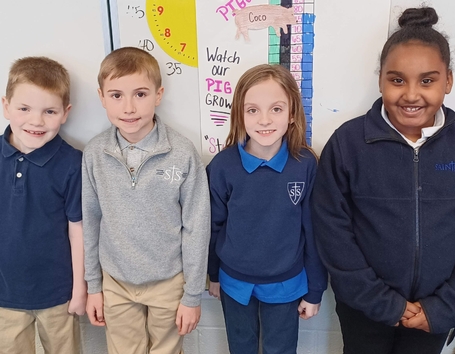 Heifer International Project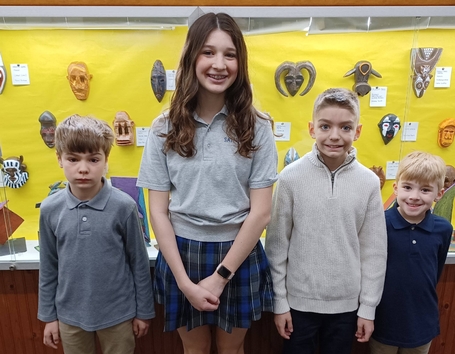 March Students of the Month
Students of the Month for March were chosen for living Habit 6: Synergize--combine the strengths of people through positive teamwork, so as to achieve goals that no one could achieve alone. Congratulations to Ashton Henke, grade 2, Taylor Fusek, grade 7, Matthew Call, grade 4, and Wyatt Adams, Kindergarten.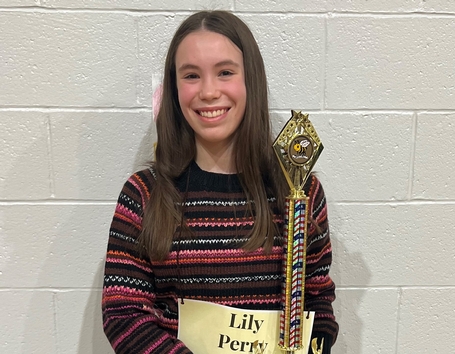 Lily Perry wins County Spelling Bee!
The Ashtabula County Spelling Bee Champion is Saint John School 7th grader Lily Perry!! The daughter of Kristin Marchewka and Bryon Perry of Geneva, Lily moves on to the final area V competition on March 1 at Hale Road Educational Center, Painesville. Our County champion will compete against the Geauga and Lake County champions for a trip to the National Spelling Bee in Washington, D.C. Congratulations Lily!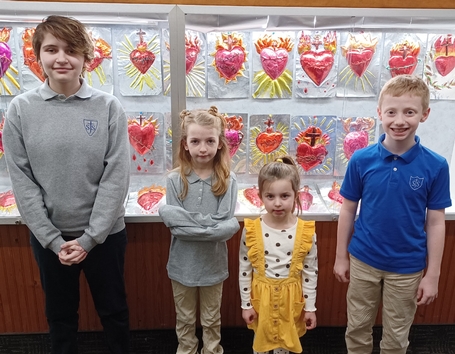 February Students of the Month
Congratulations to our February Students of the Month: Isabella Whitehead '27, Scarlet Kosar '32, Haley Salyan '36 and Kruz Zoretich '30. These students are being recognized for excellence in Habit 5. Understand, then be understood. Listen to how others are feeling. Be respectful of others feelings. Listening without interrupting.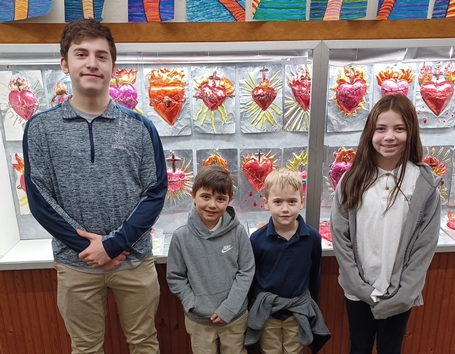 January Students of the Month
Congratulations to our January Students of the Month: Jacob Timonere '23, Mateo Updyke-Rae '34, Jace Parks '35 and Delilah Butler '29. These students were recognized for living Habit 4 of always thinking win-win.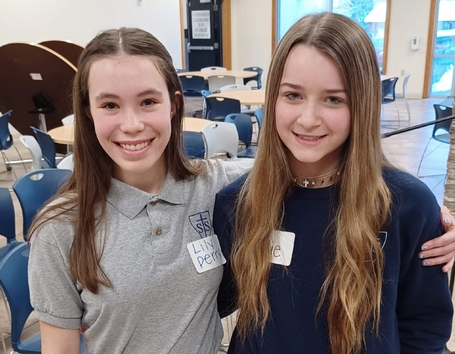 Lily Perry '28 wins Spelling Bee
This morning was our junior high Spelling Bee competition. Congratulations to our Saint John champion Lily Perry '28 (left) and runner-up Allie Johns '29. Lily will represent Saint John at the County Competition in February, with a chance to move on to the Tri-County Bee and beyond!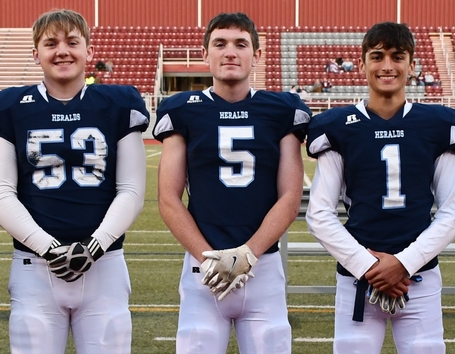 Three Football Players Recognized
Some end of the season recognition for the Saint John Football Program: Senior Matt Miller (#5) was the Saint John nominee for the Robert L. Wiese Scholar Athlete Award given annually by the Ashtabula County Touchdown Club. Matt was also the recipient of a $500 scholarship presented by the Touchdown Club. Senior defensive back Jimmy Severino (#1) has named honorable mention All-Ohio in D-VII. Senior offensive/defensive lineman Tom Miller (#53) was also named honorable mention All-Ohio in D-VII. Congratulations men!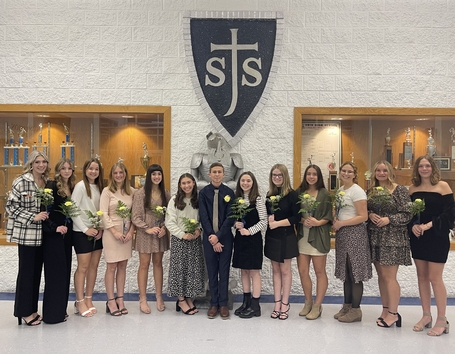 National Honor Society Induction
The newest members of the Saint John School Chapter of the National Honor Society (NHS) were inducted on November 14. Congratulations to (L to R): Giana DeCato '23, Emily Gruey '24, Rylee Schor '24, Grace Lockwood '24, Grace DiSalvatore '24, Isabel Martinez '24, Nicholas McClure '24, Mary Catherine Ducro '24, Lisa Bosley '24, Alyssa Cevera '24, Kiden Housel '23, Olivia Sposito '24 and Fallon Luhta '24. Developing Scholarship. Deepening Faith. Inspiring Leadership.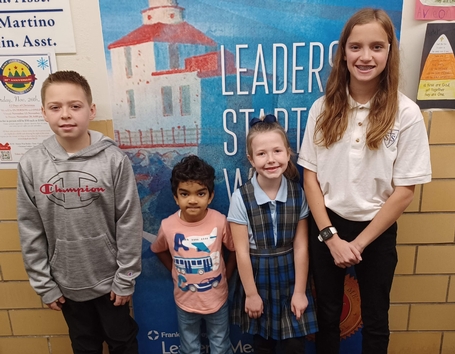 November Students of the Month
The Saint John School students of the month for November: These students focused on Habit 2-Begin with the end in mind. To Begin With the End in Mind means to start every endeavor with clearly defined outcomes. These students have the ability to envision, see potential, and create with their mind what they cannot presently see with their eyes. Pictured L to R: Vinny Church, 4th grade, Pranav Adigopula, PK, Layci Bowman, 2nd grade and Emma Phillips, 8th grade. Congratulations Heralds!!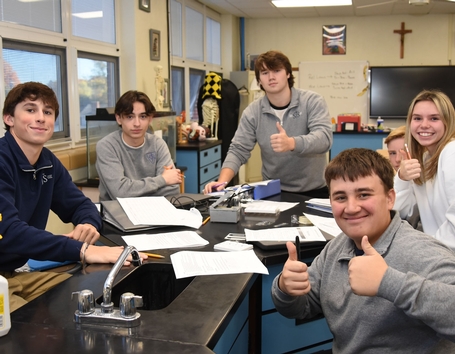 Herald Double Day!
Today is Herald Double Day! Your gift to the Herald Fund impacts every aspect of the Saint John student experience for each and every one of our 545 students. All gifts received by Thanksgiving will be matched up to $50,000! Text the word "Give" to 440.294.8020 or donate online at www.sjheralds.org/support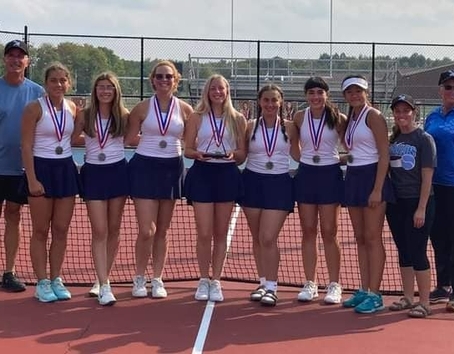 Tennis dominates All-County
The entire starting lineup for Saint John Girls Tennis Team has been placed on the first team All-County Tennis Team with seven players being recognized! Singles: Alyssa Cevera, Colleen Andersen and Mickey Zheng. Doubles: Kiden Housel, Christina Bellios, Maddie Blenman and Grace DiSalvatore. Coach Nassief was also named Coach of the year. Congratulations Heralds!!
Students of the Month
Congratulations to this month's leaders and September students of the month. These students are being recognized for always being proactive leaders! Pictured left to right: Kim Roxberry, grade 12, Sebastian Giuliani, grade 1, Sylas Moore, grade 4 and Nicole Zheng, grade 6.
The Sweet 16 and regional bound!
The varsity volleyball team has won the district title again and have qualified for regional play. One of the final 16 teams still playing in the D-IV State tournament, the Heralds will face Wellsville on Thursday, November 3 at Strongsville High School.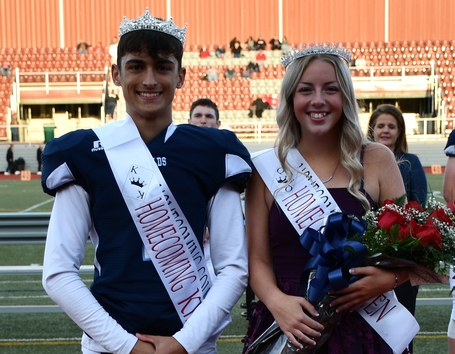 2022 Homecoming Royalty
Congratulations to the 2022 Saint John Homecoming Queen and King: Colleen Andersen and Jimmy Severino.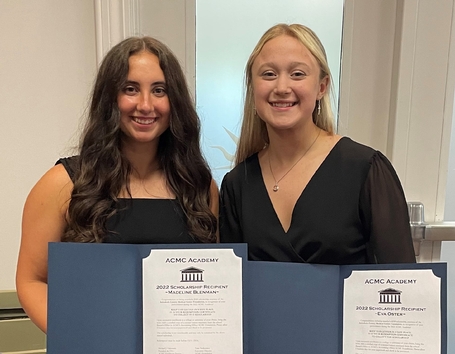 ACMC Academy
Seniors Maddie Blenman and Eva Oster successfully completed the ACMC Academy this summer and both received scholarships for their efforts!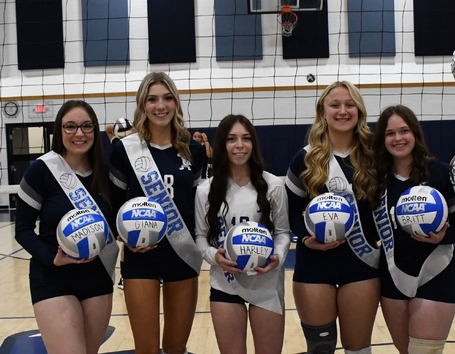 Volleyball Seniors
Celebrating our Volleyball Seniors before a 3-0 sweep over Windham. Thank you Madison, Giana, Harley, Eva and Brittaney!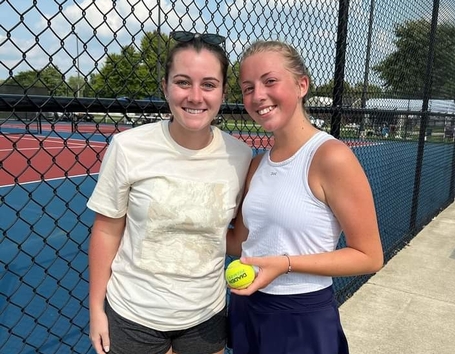 Colleen Andersen sets school record!
Senior tennis player Colleen Andersen recently won her 89th career varsity tennis match to break the school record previously held by Emily Cevera '20.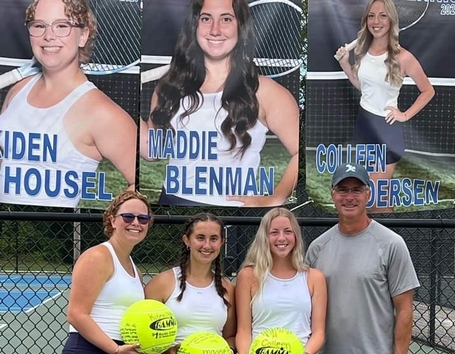 Senior tennis players
Congratulations to our senior tennis players: Kiden Housel, Maddie Blenman and Colleen Andersen. The ladies defeated previously unbeaten Andrews Osborne 5-0 to highlight the senior night festivities!
2022 Homecoming Court
The 2022 Saint John School Homecoming Court is (left to right) Madison Fortune, Riley Beatman, Colleen Andersen, Cienna Wojcieck and Maddie Blenman. Back row: Jacob Timonere, Matt Miller, Jesus Hernandez, Tom Miller and Jimmy Severino. The Queen and King will be crowned prior to the Homecoming Football game with Mathews on Friday, September 23 at the Spire.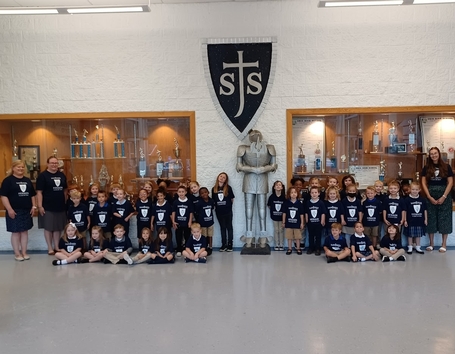 The Class of 2035
A Saint John School tradition is to provide the kindergarten class with their class shirts and take a group photo. The class shirts can be worn on dress down days, field trips and special events. The Class of 2035 has 43 students!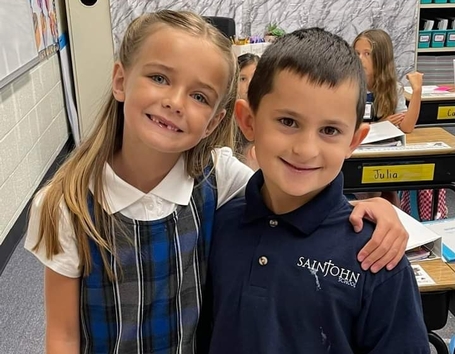 Welcome back Heralds!
The 2022-23 academic year is off to a great start with 535 students in grades PK-12. This marks the tenth consecutive year of growth for Saint John School. Leadership starts with us!!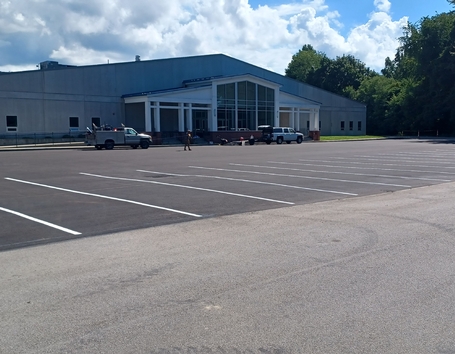 Under Construction
Our Depot Road campus gets bigger and better everyday. There could not be a better time to Be a Herald!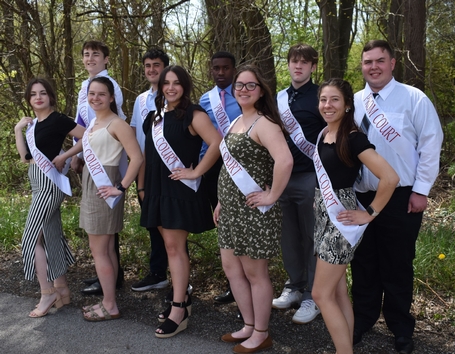 2022 Saint John Prom Court
The 2022 Saint John School Prom Court: Back (L to R) Kaden Johnston, Andrew Grippi, Andrew Williams, Tommy Kirk, and Nathan Wilms. Front (L to R) Natalie Fowler, Anya Shevchik, Lily Nagy, Adriana Gonzalez and Arianna Hernandez.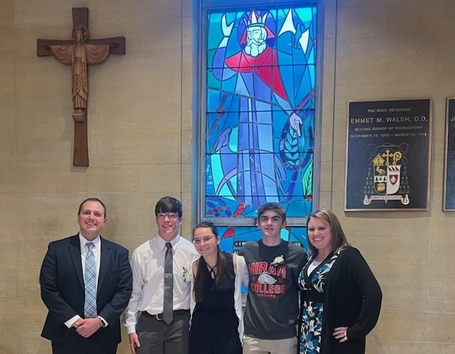 2022 Eagle of the Cross recipients
Congratulations to seniors Devyn Mercilliott and Anya Shevchik, Saint John School recipients of the Eagle of the Cross award and Ian Fuentes, Assumption Parish Eagle of the Cross recipient. The Eagle of the Cross is an award given annually in the Diocese of Youngstown to outstanding junior and senior high school students who show particular zeal in the improvement of their own parish ministry programs, high school ministry team or youth work in general.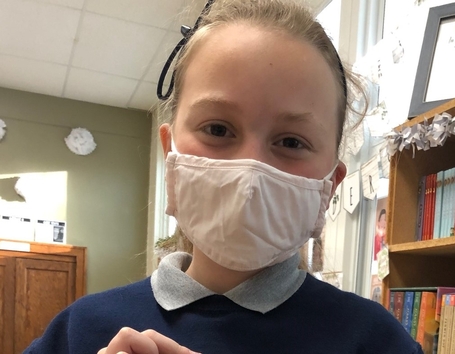 Delaney Tirotta wins contest!
Sixth grader Delaney Tirotta recently entered the Northeastern Chapter Ohio Middle School Brochure contest and won! Her brochure will now go to the Ohio Society to be judged alongside other students from all over Ohio. She had to create a brochure that discussed one of the five founding documents. She chose the Articles of Confederation. She said she chose it because, "It was something new that I didn't know much about and wanted to learn more about it!" Great job Delaney!!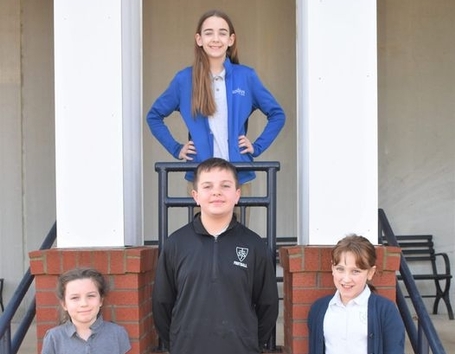 April Students of the Month
April students of the month were recognized for their leadership. Front: Clare Moncrief, grade 1, Joseph Crawford, grade 6, and Livy Davis, grade 2. Back: Emma Call, grade 7. Congratulations Heralds!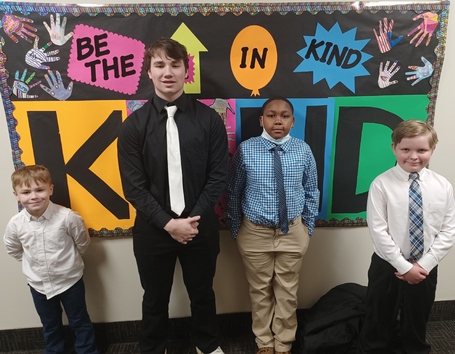 March Students of the Month
Saint John School Students of the Month for March 2022 were chosen using the core value of kindness. Left to Right: Jaxon Baker, Kindergarten, Ryan Williams, grade 9, Aiden Lee, grade 4, Jayden Steele, grade 3. Congratulations Heralds!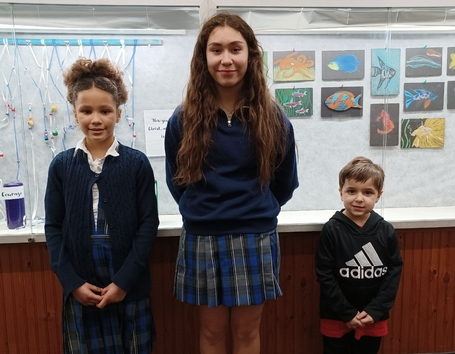 February Students of the Month
Saint John School Students of the Month for February 2022 were chosen using the core value of friendship. Left to Right: Averyanna Tackett, grade 2, Isabel Martinez, grade 10 and Legend Lampela, PK. Not pictured is Leahamaya Afanador, grade 5. Congratulations Heralds!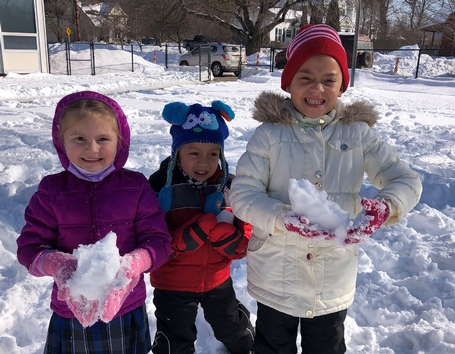 Kindergarten Assessment is April 1
Our first Kindergarten Readiness Assessment (KRA) for students who wish to enter the Saint John Class of 2035 is set for Friday, April 1. Please contact Mr. Keith Corlew at 440.997.5531 X 226 or kcorlew@sjheralds.org to schedule your appointment. **This KRA day is for students who will be new to Saint John School and not currently enrolled in our PK.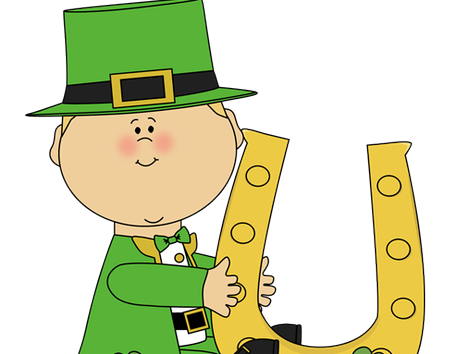 2022 St. Patrick's Day Raffle
The St. Patrick's Day Raffle and 7 Lucky Nights has started! Play and Win online this year. Early bird raffles February 28-March 4, bidding begins on March 5. Go to www.bidpal.net/stpat22 to get registered. Direct your questions to Christy Garrod Kovacs at 440.998.5531 X 223.
Read More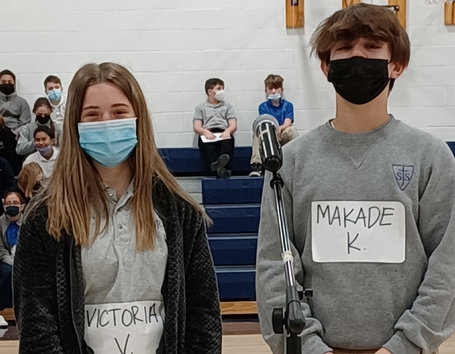 Saint John School Spelling Bee
Victoria Valentic '26 and Makade Kanicki '26 were the two finalists in the Saint John Middle School Spelling Bee competition. Victoria will move on to represent Saint John at the Ashtabula County Bee competition on February 3.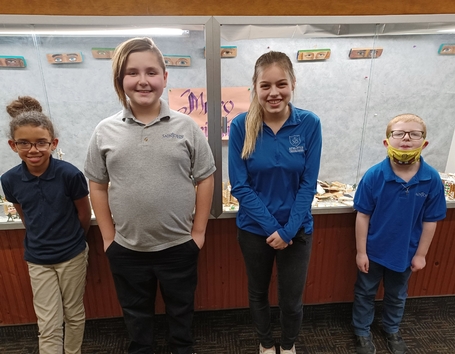 January Students of the Month
The mission of Saint John School is to Develop Scholarship, Inspire Leadership and Deepen Faith in all of our 503 students. The January students of the month were chosen for their dedication to deepening their faith. Congratulations to Brooklyn McCabe (grade 3), Lincoln Severino (grade 6), Cienna Wojcieck (grade 11) and Jesse Collins (grade 1).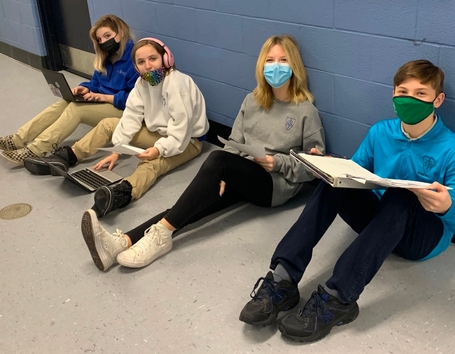 Power of the Pen
Four Saint John students have advanced to the regionals of the Power of the Pen competition. Rylee Frasure '27, Josie Hall '27, Malena Gottwig '26 and Natalee Schor '26 will all compete in the virtual event hosted by Hudson Middle School on March 5.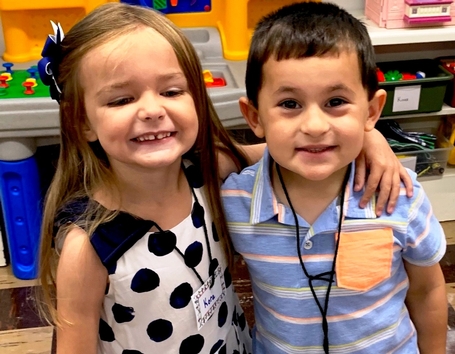 Herald Double Day
Herald Double Day is November 10. All gifts made prior to Thanksgiving will be matched. Consider making your Herald Fund gift now. Your gift is tax deductible. This year your gift will enable us to increase safety and security across the campus and update the entrance to the school.
Read More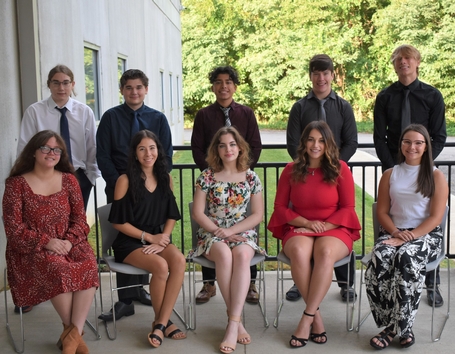 2021 Homecoming Court Announced
The 2021 Saint John School Homecoming Court. Queen candidates L to R are Adriana Gonzalez, Arianna Hernandez, Natalie Fowler, Lily Nagy and Anya Shevchik. King candidates L to R are Anthony Keck, Dominic Keck, Rodrigo Llamas, Devyn Mercilliott and Tyler Cathcart. Queen and King will be announced before the home football game with Beachwood on Friday, October 1 at Spire.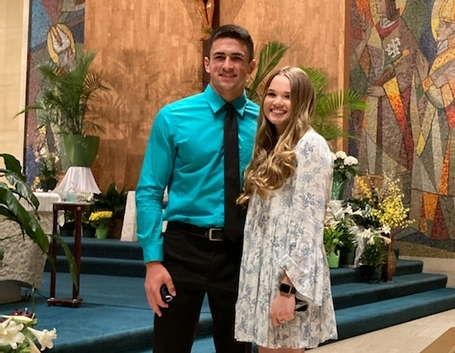 2021 Eagle of the Cross Recipients
The Eagle of the Cross award was originally created by the National Federation for Catholic Youth Ministry (NFCYM), and is the highest honor the Diocese of Youngstown presents to youth who show particular zeal for the improvement of their parish youth ministry program, high school ministry teams or other ministries within the diocese. Recipients must be practicing Roman Catholics and exemplify the qualities of moral integrity, prayerful/spiritual life, personal outreach to church and community, contribution to parish and/or school programs, and Christian leadership. Involvement in diocesan programs is also considered. The award is not geared toward quantitative service hours, but to the integrity of the individual and how well she or he is perceived as an outstanding Catholic Christian. Since 1999, 583 youth have received the Eagle of the Cross Award, including a few who have gone on to become priests, seminarians, postulants, parish ministers, parents, and outstanding Catholic witnesses in their college and work lives. We are thrilled to announce that Saint John seniors Morgan Anderson and David DiSalvatore have been named Eagle of the Cross recipients for 2021.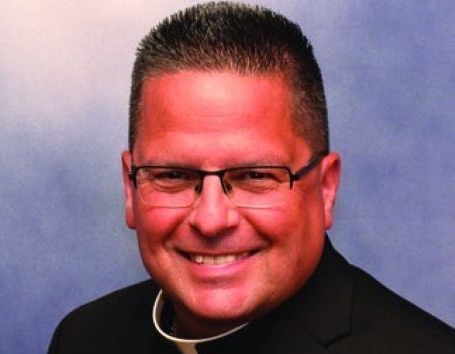 Welcome Bishop David J. Bonnar!
We are happy and blessed to welcome Bishop-Elect David Bonnar as Bishop of the Diocese of Youngstown. Bishop Bonnar was installed on January 12, 2021. Bishop-elect David J. Bonnar was born in Pittsburgh the fourth of five children to George and Mary Bernadette (Wilson) Bonnar, both of whom are deceased. His dad was a butcher and meat manager for Thorofare Markets and his mom was the consummate homemaker. He attended Saint Gabriel of the Sorrowful Virgin School and graduated from Seton LaSalle High School. Bishop-elect Bonnar is a graduate of Duquesne University with a B.A. in Social Communications. He received his S.T.B. from the Pontifical Gregorian University, Rome and was ordained a priest for the Diocese of Pittsburgh on July 23, 1988.Bishop-elect Bonnar served as a parochial vicar at St. Vitus, New Castle, St. Rosalia, Greenfield and St. Thomas More, Bethel Park. He served as pastor of St. Bartholomew, Penn Hills, St Bernard, Mt Lebanon and Administrator of Our Lady of Grace, Scott Township. He is presently pastor of St. Aidan, Wexford. He served as Rector of Saint Paul Seminary, Director of Pre-Ordination Formation, Director of Vocations and the Director of the Permanent Diaconate. For the Diocese of Pittsburgh he served as Secretary of Parish and Ministerial Leadership and the Vicar of Clergy. For 12 years Bishop-elect Bonnar was chaplain of the Pittsburgh Steelers and is currently editor of The Priest Magazine which is a national publication for priests published by Our Sunday Visitor.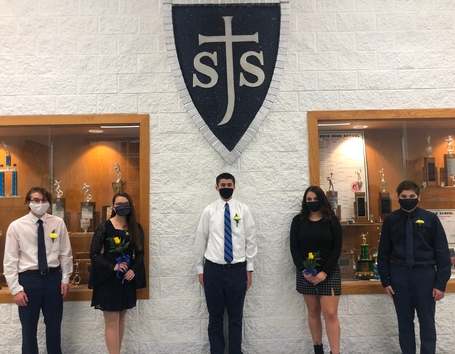 NHS inducts six new members
Congratulations to the newest members of the Saint John School National Honor Society (NHS) inducted last night. Group photo left to right: Anthony Keck, grade 11, Anya Shevchik, grade 11, Andy Grippi, grade 11, Lily Nagy, grade 11, and Dominic Keck, grade 11. Not pictured is senior Dru Hathy, who participated via Zoom.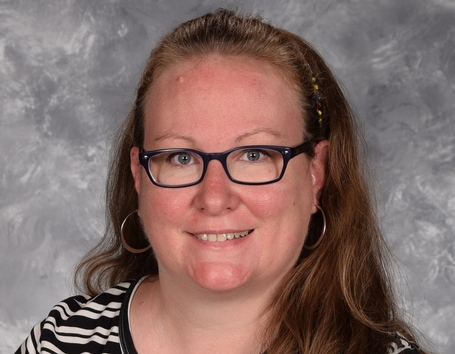 Mrs. Bethanie Cox--New Kindergarten Teacher
Entering her fourth year at Saint John School, Mrs. Bethanie Cox isn't new to Saint John, but she is new to Kindergarten. After recently completing her degree from Youngstown State University, Mrs. Cox has moved across the hall from Pre-K to join Ms. Zullo in our Kindergarten. Mrs. Cox lives in Conneaut with her husband (Kris) of 15 years, daughters Rory '30 and Raelyn '32, two Siamese cats and a new Great Pyrenees/Shepard puppy. A member of Corpus Christi Parish, she enjoys spending time with family and friends, traveling and the outdoors. Mrs. Cox truly loves the sense of family at Saint John, including students, parents, faculty and staff. She feels blessed to be a Herald and even more loves that her children are also in the Herald family. Thank you, Mrs. Cox!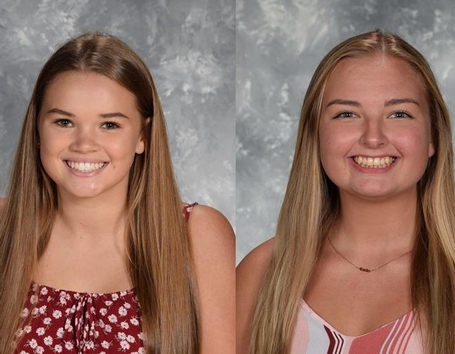 Student Council Officers Named
Student Council 2020-2021 Student Body Officers: President: Morgan Anderson Secondary Officers: Hanna McClure and David DiSalvatore Senior Class 2021 President: Katie Kovach Secondary Officers: Olivia Passerell and Julianne Sheldon Junior Class 2022 President: Lily Nagy Secondary Officers: Anastashia Shevchek and Tyler Cathcart Sophomore Class 2023 President:Cienna Wojcieck Secondary Officers: Kiden Housel, Eva Oster, Jacob Timonere Freshman Class 2024 President: Nicholas McClure Secondary Officers: Lisa Bosley, Grace DiSalvatore and Rylee Schor
Bishop David J. Bonnar installed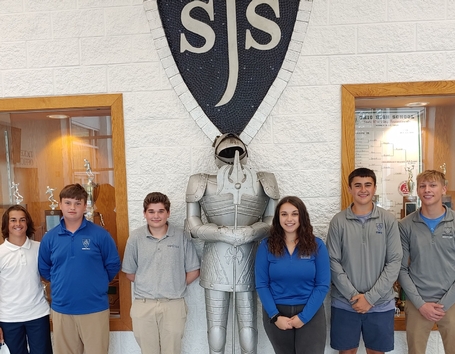 21-22 Student Body Officers
Students in grades 7-12 named Student Body Officers for the 21-22 school year are Anthony Severino, Donald Crawford, Dominic Keck, Lily Nagy, Andy Grippi and Tyler Cathcart.