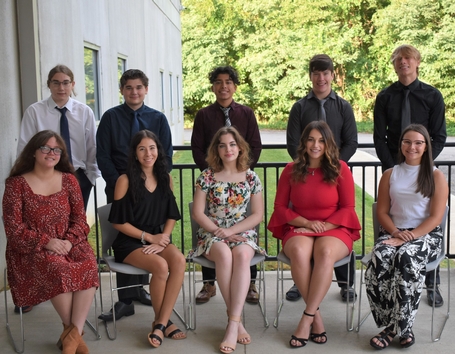 2021 Homecoming Court Announced
The 2021 Saint John School Homecoming Court. Queen candidates L to R are Adriana Gonzalez, Arianna Hernandez, Natalie Fowler, Lily Nagy and Anya Shevchik. King candidates L to R are Anthony Keck, Dominic Keck, Rodrigo Llamas, Devyn Mercilliott and Tyler Cathcart. Queen and King will be announced before the home football game with Beachwood on Friday, October 1 at Spire.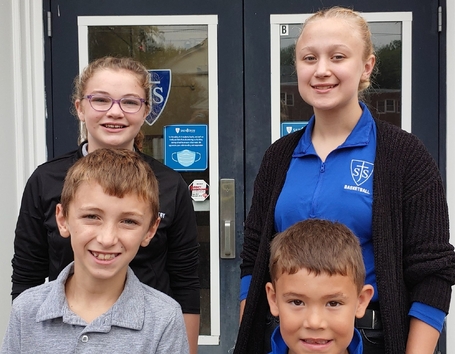 September Students of the Month
The 2021-22 school year theme is "Power Up--Reconnect". Our September Students of the Month are doing just that; accepting responsibility, taking ownership, consistently doing the right thing and creating an atmosphere of excellence. Congratulations to (L to R) Vincent Kosar (grade 4), Jordon Adams (grade 1) , Alli Rothwell (grade 6) and Eva Oster (grade 11).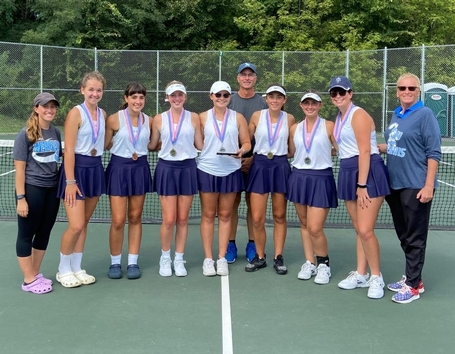 Tennis is second in the County!
The Varsity Girls Tennis Team took second place at the County Tournament! Alyssa Cevera--first place--first singles. Colleen Andersen--first place--second singles. Maddie Blenman--second place--third singles. Grace DiSalvatore/Rylee Schor--third place--first doubles. Kiden Housel/Anya Shevchik--second place--second doubles. Great job Heralds!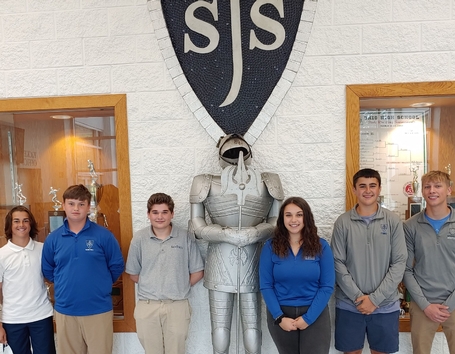 2021-22 Student Body Officers
Grades 7-12 Student Body Officers have been elected for the upcoming 21-22 school year. These students will represent their class in the meeting, planning and implementation of all student led activities.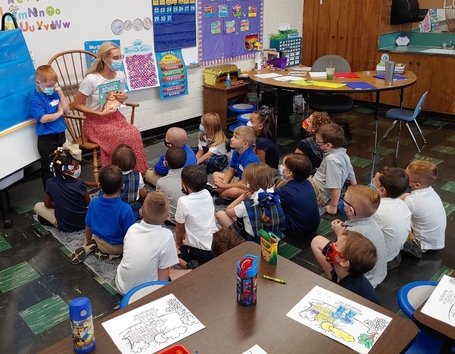 2021-22 School Year Opens!
The 2021-22 academic year began on August 25 with 504 students in grades PK-12. Keep checking back often to learn more about our new staff, as well as a number of school improvements. Remember Heralds Power Up--Reconnect!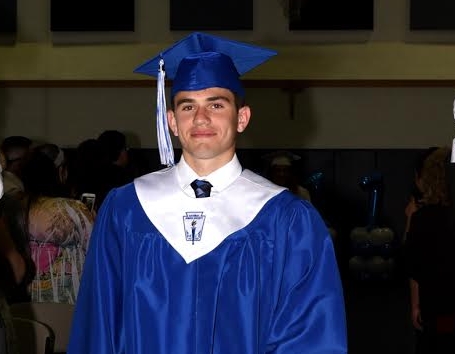 Tony Massucci '17 1st team All-OAC
Saint John Alumni and current Mount Union Senior Tony Massucci '17 was recently named to the first team Ohio Athletic Conference (OAC) Tennis squad as a singles player. Congratulations Tony!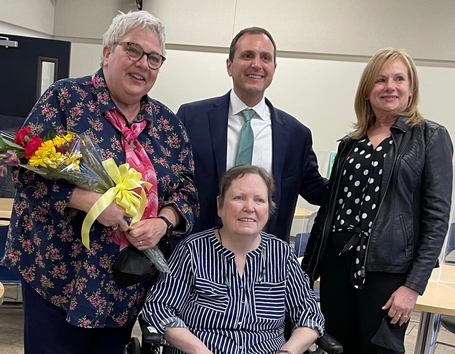 Golden Apple Award--Ms. McClimans
The Golden Apple Award has been established to honor outstanding individuals who devote their lives to teaching in Catholic schools. The Diocese of Youngstown annually recognizes and deeply appreciates the unique charge these teachers and principals have to the development of each student. This year the Diocese has chosen Ms. Marilou McClimans to receive the Golden Apple Award. Pictured with Ms. McClimans are Mr. Plescia, Sister Maureen and Lori Crofford representing the Diocese. Congratulations and well deserved, Ms. McClimans!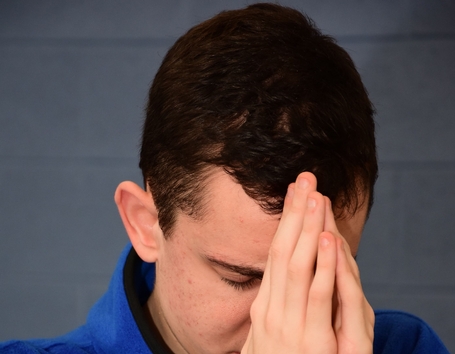 Youth of the Year--John Biggins
Senior John Biggins has been chosen as the Youth of the Year by the Geneva-Madison Knights of Columbus, Council 5286. John is the son of Teri and John Biggins of Madison and belongs to Immaculate Conception Parish in Madison. You are a true Herald, and we are so proud of you John!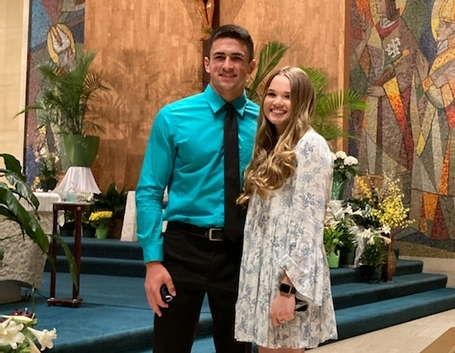 2021 Eagle of the Cross Recipients
The Eagle of the Cross award was originally created by the National Federation for Catholic Youth Ministry (NFCYM), and is the highest honor the Diocese of Youngstown presents to youth who show particular zeal for the improvement of their parish youth ministry program, high school ministry teams or other ministries within the diocese. Recipients must be practicing Roman Catholics and exemplify the qualities of moral integrity, prayerful/spiritual life, personal outreach to church and community, contribution to parish and/or school programs, and Christian leadership. Involvement in diocesan programs is also considered. The award is not geared toward quantitative service hours, but to the integrity of the individual and how well she or he is perceived as an outstanding Catholic Christian. Since 1999, 583 youth have received the Eagle of the Cross Award, including a few who have gone on to become priests, seminarians, postulants, parish ministers, parents, and outstanding Catholic witnesses in their college and work lives. We are thrilled to announce that Saint John seniors Morgan Anderson and David DiSalvatore have been named Eagle of the Cross recipients for 2021.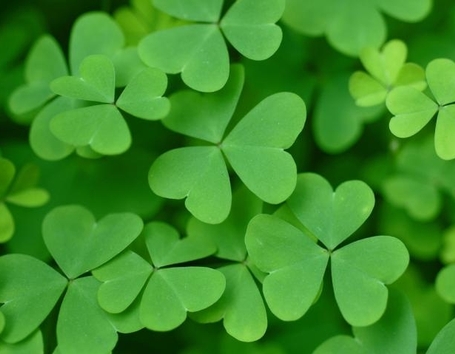 St. Patrick's Day Raffle!
The annual Saint Patrick's Day Raffle is going online this year! Reimagined as 7 Lucky Nights beginning March 6 and concluding with a live streamed finale on www.sjheralds.org and our Saint John School Facebook Page on Saturday, March 13. There is no ticket fee to "attend" but you must register on our event site (REGISTRATION WILL OPEN ON FEBRUARY 20) to participate at www.bidpal.net/sjsstpatraffle or text sjsstpatraffle to 243725. A ticket for the reverse raffle is $300 and only 150 tickets will be sold. Over $25,000 in cash prizes and more than 10 winners. An online 50/50, cash raffles, pre-ordered dinners and much, much more--all to benefit the 480 students at Saint John School. Questions should be directed to Christy Kovacs at ckovacs@sjheralds.org or 440.997.5531 X 223
Read More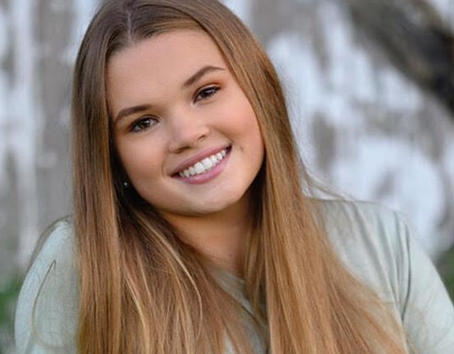 Morgan Anderson is JCU Ignatian Heritage Scholarship recipient!
Senior Morgan Anderson has been named the recipient of the inaugural John Carroll University Ignatian heritage Scholarship!
Read More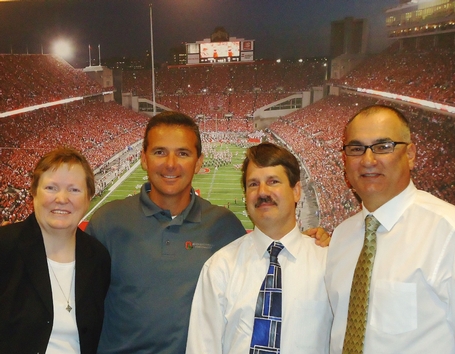 Urban Meyer '82 named Jacksonville Jaguars Head Coach
Saint John alumni Urban Meyer '82 has been named the head coach of the National Football League's Jacksonville Jaguars. Meyer, 56, will coach at the NFL level for the first time. He went 83-9 in seven seasons at Ohio State, winning the 2014 national championship. He is 187-32 over 17 seasons at Bowling Green, Utah, Florida and OSU. He won national championships at Florida in 2006 and '08 and had an undefeated season at Utah in 2004. "I'm ready to coach the Jacksonville Jaguars," Meyer said. "Jacksonville has an enthusiastic fan base, and the fans deserve a winning team. With upcoming opportunities in the NFL Draft, and strong support from ownership, the Jaguars are well-positioned to become competitive. "I've analyzed this decision from every angle — the time is right in Jacksonville, and the time is right for me to return to coaching." Congratulations Coach Meyer!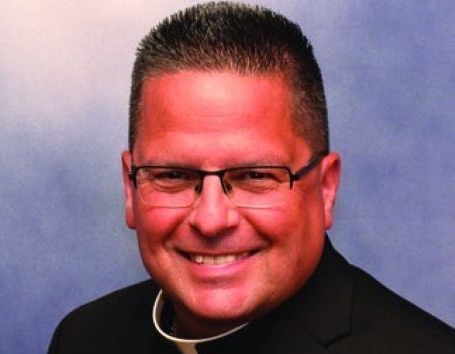 Welcome Bishop David J. Bonnar!
We are happy and blessed to welcome Bishop-Elect David Bonnar as Bishop of the Diocese of Youngstown. Bishop Bonnar was installed on January 12, 2021. Bishop-elect David J. Bonnar was born in Pittsburgh the fourth of five children to George and Mary Bernadette (Wilson) Bonnar, both of whom are deceased. His dad was a butcher and meat manager for Thorofare Markets and his mom was the consummate homemaker. He attended Saint Gabriel of the Sorrowful Virgin School and graduated from Seton LaSalle High School. Bishop-elect Bonnar is a graduate of Duquesne University with a B.A. in Social Communications. He received his S.T.B. from the Pontifical Gregorian University, Rome and was ordained a priest for the Diocese of Pittsburgh on July 23, 1988.Bishop-elect Bonnar served as a parochial vicar at St. Vitus, New Castle, St. Rosalia, Greenfield and St. Thomas More, Bethel Park. He served as pastor of St. Bartholomew, Penn Hills, St Bernard, Mt Lebanon and Administrator of Our Lady of Grace, Scott Township. He is presently pastor of St. Aidan, Wexford. He served as Rector of Saint Paul Seminary, Director of Pre-Ordination Formation, Director of Vocations and the Director of the Permanent Diaconate. For the Diocese of Pittsburgh he served as Secretary of Parish and Ministerial Leadership and the Vicar of Clergy. For 12 years Bishop-elect Bonnar was chaplain of the Pittsburgh Steelers and is currently editor of The Priest Magazine which is a national publication for priests published by Our Sunday Visitor.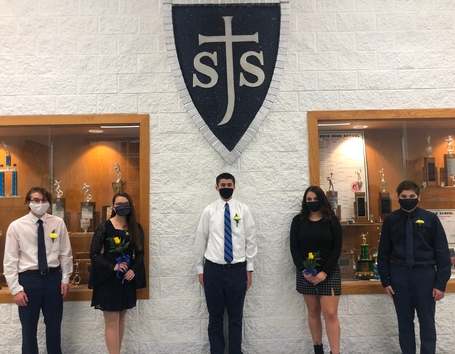 NHS inducts six new members
Congratulations to the newest members of the Saint John School National Honor Society (NHS) inducted last night. Group photo left to right: Anthony Keck, grade 11, Anya Shevchik, grade 11, Andy Grippi, grade 11, Lily Nagy, grade 11, and Dominic Keck, grade 11. Not pictured is senior Dru Hathy, who participated via Zoom.
Festival of Trees is a success!
Although we missed gathering together to celebrate the start of the holiday season, moving to a virtual platform allowed Herald supporters from near and far to "attend" the Festival of Trees this year. Event Chairperson Wendy Nagy reported almost 600 supporters registered on the event site. Participants really enjoyed the daily raffles during The 12 Days of Festival of Trees and prizes were shipped to winners as far away as Florida! Volunteer Terri Biggins told us the online platform was so easy to use that most bidders (herself included) didn't even realize how much they were spending. Thank you to everyone who participated and made this event a big success!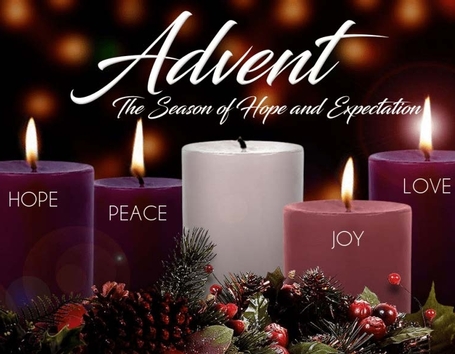 Advent Actvities
Every Monday at 7:50 am you are welcome to join us on our Saint John broadcast channel for a virtual Advent Prayer service. Throughout the Advent season Saint John students will also be participating in an interactive Advent Calendar(found on the SJ Campus Ministry Instagram page) featuring daily activities and prayers for the season.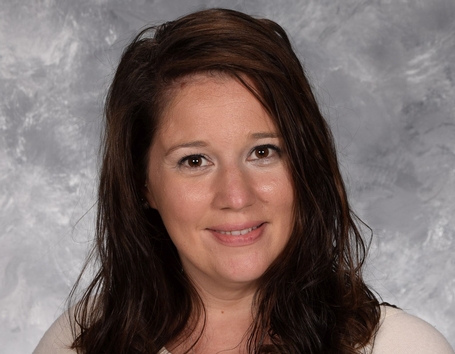 Welcome Mrs. Judy Gephart!
Mrs. Judy Gephart joined the Saint John staff this year as the high school library moderator and an eighth grade homeroom supervisor. Born and raised in Ashtabula, Judy and her husband Bob have five children at Saint John: Tyler '23, Josh '25, Sandie '28, Robert '31 and Justin '34. After Tyler enrolled at Saint John in 9th grade, Judy quickly realized the smaller school and family atmosphere at Saint John and wanted her entire family to be part of it. She says "Saint John is not just about strong academics, they do so much for the students and the community. I just knew I wanted to be a part of that." Judy enjoys after school activities with her kids, cooking, all things Christmas, and loves the Browns, Indians and Buckeyes. We are so glad your entire family chose Saint John!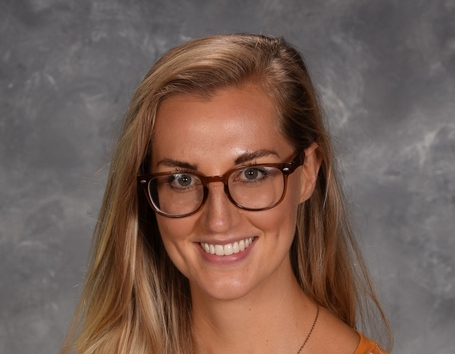 Welcome Mrs. Bethany Barfell!
Mrs. Bethany Barfell joined the Saint John School staff this year as a sixth grade teacher. She earned a Bachelors Degree in Children's Ministry from Indiana Wesleyan University and a Master's Degree in Early Childhood Education from Grand Canyon University. Prior to coming to Saint John, Bethany lived in Wisconsin, and she and her husband, and new puppy, enjoy reading, running, hiking and most outdoor activities. We are so happy you are at Saint John!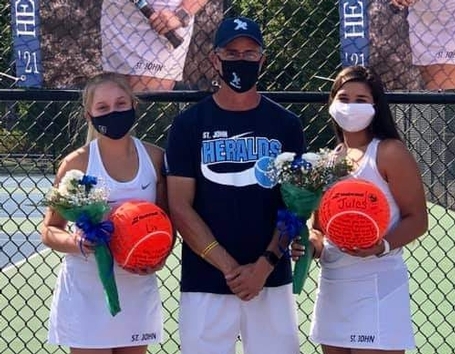 Monthly Athletic Raffle
The Saint John Athletic Department is sponsoring a progressive monthly raffle. Tickets are $25 and each ticket is eligible for a monthly drawing October through May and can win more than once. The first drawing is October 6 and future drawings will be the first Tuesday of each month. To purchase tickets please contact Saint John AD, Mr. Nick Iarocci, at 440.813.0479 or any Saint John student athlete.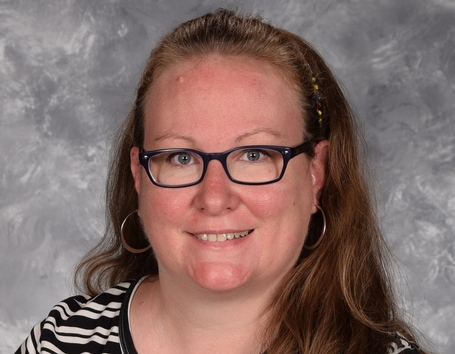 Mrs. Bethanie Cox--New Kindergarten Teacher
Entering her fourth year at Saint John School, Mrs. Bethanie Cox isn't new to Saint John, but she is new to Kindergarten. After recently completing her degree from Youngstown State University, Mrs. Cox has moved across the hall from Pre-K to join Ms. Zullo in our Kindergarten. Mrs. Cox lives in Conneaut with her husband (Kris) of 15 years, daughters Rory '30 and Raelyn '32, two Siamese cats and a new Great Pyrenees/Shepard puppy. A member of Corpus Christi Parish, she enjoys spending time with family and friends, traveling and the outdoors. Mrs. Cox truly loves the sense of family at Saint John, including students, parents, faculty and staff. She feels blessed to be a Herald and even more loves that her children are also in the Herald family. Thank you, Mrs. Cox!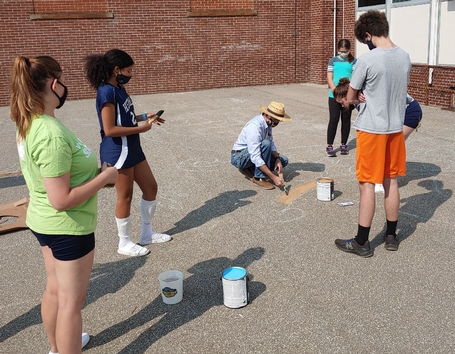 Playground Art Service Project
The grade school teachers are always looking for new and exciting ways to create meaningful and educational opportunities within organized recess. Beginning this week, high school art teacher Mr. Ralph Bacon has started working with a number of junior high and high school student volunteers to create a whimsical footpath mural on the playground that is activity based and will provide students daily opportunities to exercise their creativity. This unique student for student service opportunity aims for daily games to come out of the art.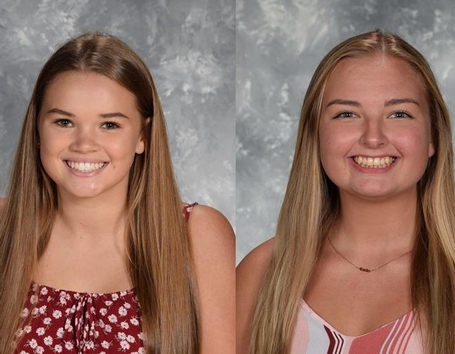 Student Council Officers Named
Student Council 2020-2021 Student Body Officers: President: Morgan Anderson Secondary Officers: Hanna McClure and David DiSalvatore Senior Class 2021 President: Katie Kovach Secondary Officers: Olivia Passerell and Julianne Sheldon Junior Class 2022 President: Lily Nagy Secondary Officers: Anastashia Shevchek and Tyler Cathcart Sophomore Class 2023 President:Cienna Wojcieck Secondary Officers: Kiden Housel, Eva Oster, Jacob Timonere Freshman Class 2024 President: Nicholas McClure Secondary Officers: Lisa Bosley, Grace DiSalvatore and Rylee Schor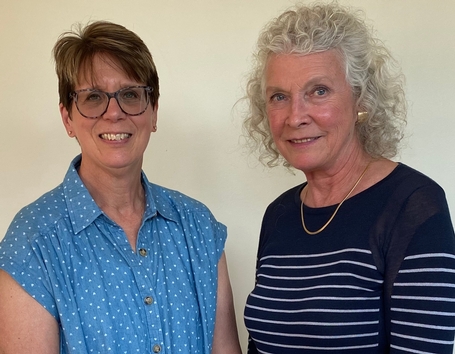 Mrs. Shinsky and Mrs. Thomas Retire
Having a combined 80+ years of service to students, Mrs. Sharon Swanson Shinsky and Mrs. Anna Thomas Smith will be retiring at the end of the 2020-21 school year. Mrs. Shinsky has enabled hundreds of students to gain confidence in their ability to communicate as a Speech Therapist. Mrs. Thomas has wiped tears of parents and students on the first day of school in her many years as a kindergarten teacher.
Save the Date: Virtual Festival of Trees!
Bishop David J. Bonnar installed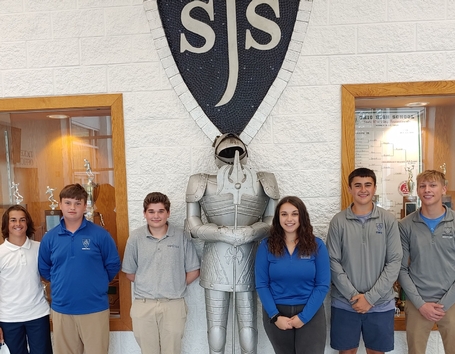 21-22 Student Body Officers
Students in grades 7-12 named Student Body Officers for the 21-22 school year are Anthony Severino, Donald Crawford, Dominic Keck, Lily Nagy, Andy Grippi and Tyler Cathcart.
Youth of the Year--John Biggins
Senior John Biggins has been chosen as the Youth of the Year by the Geneva-Madison Knights of Columbus, Council 5286. John is the son of Teri and John Biggins of Madison and belongs to Immaculate Conception Parish in Madison. You are a true Herald, and we are so proud of you John!